View all news
Documenting the Temple Quarter regeneration through art and poetry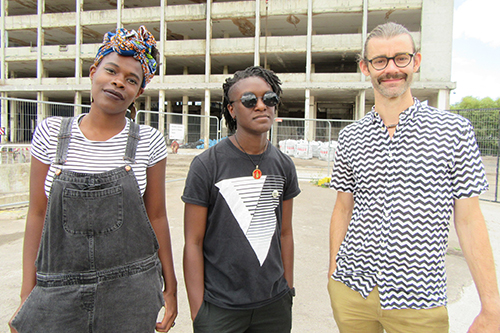 Press release issued: 22 October 2018
Poets and artists have revealed their plans to work with local communities on new projects to celebrate the regeneration of the Temple Quarter area and document its heritage.
From an immersive 360 degrees film installation to performance poetry, the work produced by artists-in-residence promises to engage and inspire as plans for the University of Bristol's new Temple Quarter Enterprise Campus take shape.
The three artists selected for the unique project are Vanessa Kisuule, Paul Hurley and Jay Bernard.
Jay, who won the Ted Hughes award for new poetry this year, plans to create a bold and experimental 360 film to explore how we build, develop and occupy space.
The film will feature a series of interviews, drawing on the history of the site and the vision for its future, which viewers can experience through VR headsets.
Jay said: "Space in a city is almost always contested. What we remember of them is usually dictated by the powerful. I intend to create an archive of spaces around the Temple Quarter site that asks different questions, that tries to document the experience and memory of ordinary residents."
Vanessa, currently the Bristol City Poet, will work with community groups to get a sense of what the area means to them, collecting memories of the past and hopes for the future.
She will use these insights to co-create poems and strong visuals around the themes of technology, public access and history.
Vanessa, who studied English Literature at the University, said: "I'm looking forward to making something which is community-focused but still artistically rigorous.
"I hope to build meaningful connections with the people I run workshops with, learn more about Bristol's past and have a stronger understanding of what the future of Bristol looks like and means for everyone."
Paul, who is a Bristol-based performance artist, will look at how both human and animal communities inhabit the site and connect with each other.
His insights will be turned into a series of films to be shown on multiple screens to create a thought-provoking and immersive experience.
Paul, who did a PhD in Drama at the University and also works as a lecturer and researcher, said: "The new campus is not only a massive capital project, but it is an opportunity to engage with the city in a different way.
"My hope is that, when presented, my work will bring together the perspectives of multiple beings – both human and non-human - around the campus into the project and into the University, helping to shape what the new campus will become."
All three will take part in events where local people will be asked to share their experiences of the area.
The Temple Quarter Enterprise Campus will be built on the seven-acre site next to Bristol Temple Meads railway station, which spans the derelict former Royal Mail sorting office and part of Temple Island.
Since the Royal Mail sorting office closed over 20 years ago, it has been a site of biodiversity, an informal music venue and a canvas for graffiti.
This site also has a much longer history, including as a site of industry, a place of transport links and as monastic land.
When the new campus opens in 2021/22, academics and students will work with business and community partners to develop digital, social and economic innovation to address real-world urban challenges.
The University's vision is for the campus to be an open and welcoming space, inclusive for all, as an area which has been neglected too often is transformed into a vibrant and inclusive new quarter of the city.