View all news
City's local artists pair up with Bristol researchers for new science-inspired art exhibition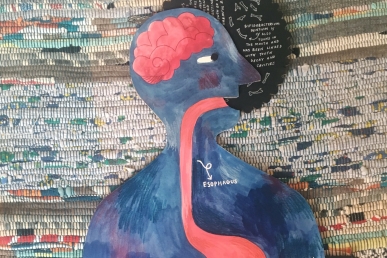 Press release issued: 7 May 2018
A cathedral trained stone carver, illustrator and stained glass artist are just some of the local artisans who have been paired with Bristol researchers to create a stunning array of science-inspired art works as part of Creative Reactions Bristol [11 to 22 May].
Around 40 artists have been working alongside 35 researchers from the University of Bristol to create, curate and exhibit a variety of art inspired by current research studies covering areas from genetics to geology, nanobots to neuroscience and stems cells to sociology.
Cathedral trained stone carver and stone mason artist Michael Blow has been working with Dr Laura Johnson, who leads research into diet, nutrition and obesity, to create a marble and wire sculpture illustrating how our food and eating habits interconnect to create dietary balance. Michael's creation visualises the four elements; type, size, timing, frequency which all play a major role in diet, nutrition and obesity.
Local stained-glass artist Sarah Davis has used her skills in colour, design and structure to create a sgraffito painting, where intricate designs are traced freehand into a painted layer on the surface of the glass which are then fired in a kiln before assembly using traditional leading or copper foil techniques. The highly-skilled technique was used to illustrate PhD student, Nancy McBride's research into adverse pregnancy outcomes.
Visualising the gut microbiome — was the brief given to illustrator Molley Scoble who has turned Dr Kaitlin Wade's passion for the complex ecosystem of microrganisms and bacteria in the gastrointestinal tract into a beautiful illustration that shows how this delicate ecosystem has co-evolved to aid digestion, provide protection against harmful pathogens and improve immunity.
The free event, which is open to members of the public, takes place from Friday 11 to Tuesday 22 May in the gallery at Hamilton House, beginning with a launch event on 11 May from 6 to 8.30 pm.
The exhibition is open from 9 am to 8 pm on weekdays and 9 am to 4 pm on weekends, with free weekend workshops and events including 'Invent the Future' by the Rising Ape Collective [17 May: 7 pm to 9 pm, Hamilton House]. This free event (although ticketed) alongside the exhibition and is organised by Creative Reactions Bristol. Both events are also part of the international Pint of Science Festival which brings conversations with researchers about the latest cutting-edge research to the pub.
Matthew Lee, a PhD student in the MRC Integrative Epidemiology Unit at the University, and one of the organisers of Creative Reactions Bristol, said: "We wanted to show that science isn't just about white lab coats, it's about creativity and passion and this has come across wonderfully in the artworks created for the exhibition. We can't wait to open to the public and show them these unique pieces of art and hear about the amazing research that inspired them."
Creative Reactions Bristol is supported by the Medical Research Council and the MRC Integrative Epidemiology Unit.
Further information
About the Medical Research Council (MRC)
The Medical Research Council is at the forefront of scientific discovery to improve human health. Founded in 1913 to tackle tuberculosis, the MRC now invests taxpayers' money in some of the best medical research in the world across every area of health. Thirty-one MRC-funded researchers have won Nobel prizes in a wide range of disciplines, and MRC scientists have been behind such diverse discoveries as vitamins, the structure of DNA and the link between smoking and cancer, as well as achievements such as pioneering the use of randomised controlled trials, the invention of MRI scanning, and the development of a group of antibodies used in the making of some of the most successful drugs ever developed. Today, MRC-funded scientists tackle some of the greatest health problems facing humanity in the 21st century, from the rising tide of chronic diseases associated with ageing to the threats posed by rapidly mutating micro-organisms.www.mrc.ac.uk
About the University of Bristol MRC Integrative Epidemiology Unit
The Medical Research Council Integrative Epidemiology Unit at the University of Bristol (IEU) is one of the MRC's flagship University Units. The IEU brings together an innovative collection of research programmes and cross-cutting themes, underpinned by core research activities that will collectively fuel a step-change in causal analysis and their application. The aim of the MRC IEU is to apply the novel causal methods developed in the IEU to key research questions related to causes of bone, cardiometabolic, reproductive, mental and other aspects of ill-health; and to ensure that the results from these studies are appropriately translated into clinical/public health practice and industrial partnerships. A major focus of IEU activities is the integration of omic measures (genomic, epigenomic, transcriptomic and metabolomic) into epidemiological investigations. www.bristol.ac.uk/integrative-epidemiology/