View all news
Company at forefront of sound revolution awarded prestigious Royal Academy fellowship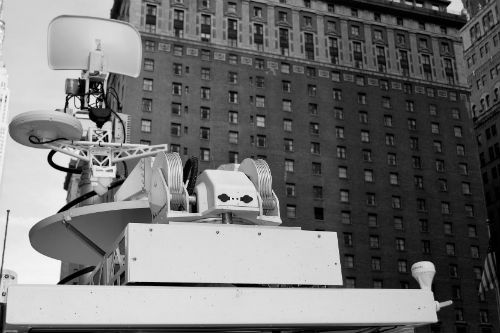 19 June 2018
Dr Mihai Caleap, Senior Researcher in the Department of Mechanical Engineering and the Chief Executive Officer of revolutionary sound technology company, Metasonics, has been awarded a Royal Academy of Engineering Fellowship to develop and grow the business.
Founded by University of Bristol and University of Sussex researchers, Metasonics has developed the first metamaterial technology to dynamically shape and sculpt soundwaves in real-time. This means giving people more precise and intuitive control over sound, from connected home alarm systems to the next generation of health and fitness wearables.
"The concept of acoustic metamaterials has existed in the realm of mathematics and physics for some time now," said Dr Caleap. "We felt it was timely to consider how they can be designed to meet the demands of real engineering applications and bring them to a technological maturity. We are one of the first companies to move acoustic metamaterials from the academic community to commercialised products.
"The Enterprise Fellowship provides me with a vehicle for translating my research to solve real world problems. As well as lifetime Enterprise Hub membership, the RAEng support will help me to develop the business skills needed to commercialise research, whilst rapidly driving the development and growth of the company."
Earlier this year at CES 2018, a global tech show in the US, the Metasonics team conducted its first public demonstration of the sound-proof 'invisible window' that lets in air but not sound. This technology could be used to redirect sounds from traffic or building construction. It could also help reduce late night noise pollution in pub gardens.
The team also showcased the company's signature acoustic metamaterial technology, which allows a car's driver and passengers to listen to different audio simultaneously, without earphones or accessories.
Dr Caleap added: "Traditionally, the technology involved in controlling an acoustic field distribution was marred by bulky and expensive essential equipment, with the costs rapidly becoming restrictive as complexity increased in line with consumer requirements. Metasonics' technology employs acoustic metamaterials, making it much smaller, more portable and flexible. Crucially, these metamaterial filters can be rearranged or reconfigured, meaning that sound can be shifted without having to move its source."
Further information
About Metasonics
Metasonics pioneers a novel, reconfigurable acoustic metamaterials technology, enabling applications within consumer, architectural and environmental, medical (therapy and diagnosis) and non-destructive evaluation markets. As a spin-out of the Universities of Bristol and Sussex, the co-founders are internationally recognised experts for research in metamaterials, human-computer interaction, and ultrasonic sensor systems. Metasonics is currently engaged with multiple companies in different markets and is also looking for investment to fund further development of the technology, grow the team and accelerate wider adoption.
About the Royal Academy of Engineering
As the UK's national academy for engineering, the Royal Academy of Engineering brings together the most successful and talented engineers for a shared purpose: to advance and promote excellence in engineering. It has four strategic challenges: make the UK the leading nation for engineering innovation; address the engineering skills crisis; position engineering at the heart of society; and lead the profession.