View all news
Legendary explorer returns to Bristol to collect honour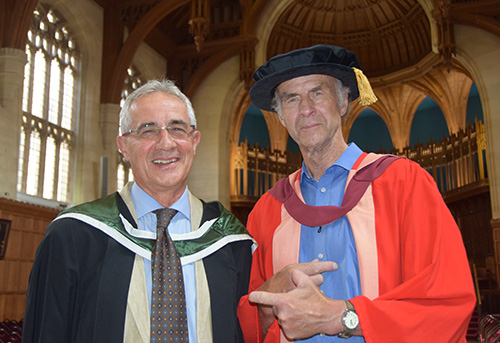 Press release issued: 20 July 2018
One of the world's greatest explorers, Sir Ranulph Fiennes, returned to the city of Bristol today [Friday 20 July] for a special reunion with the cardiac surgeon who saved his life.
The 74-year-old received an honorary degree from the University of Bristol, where the heart bypass technique used on Sir Ranulph in 2003 was pioneered.
The researcher behind what's known as 'beating heart surgery', which allows bypass surgery to be carried out while the heart is still beating, is Professor Gianni Angelini, who treated him following a heart attack at Bristol Airport.
Having made a full recovery, and following advice from Professor Angelini, the explorer went on to complete even more challenges and further cement his place in the history books.
Sir Ranulph received a standing ovation for his humorous acceptance speech, in which he regaled stories of a mischievous youth which led to him leaving school with no qualifications.
He said: "Wonderful, wonderful Bristol University, I cannot thank you enough for giving me this great honour.
"And I must thank Gianni – the best cardiologist anywhere, who happens to be in Bristol. Because of his expertise, I'm still alive.
"Why I had a heart attack, I don't know. I remember nothing about it except waking up in hospital four days later and my wife told me that I'd had a double heart bypass."
Just three months after surgery, Sir Ranulph ran seven marathons in seven days, on all seven continents, to raise money for the British Heart Foundation (BHF). In May 2009, at the age of 65, he climbed to the summit of Mount Everest.
More recently, he became the oldest Briton to complete the Marathon des Sables in 2015. Known as the 'toughest foot race on earth', it covers 151 miles across the Sahara Desert in six days with temperatures reaching up to 50°C (122°F).
Money raised by Sir Ranulph for the BHF helps to fund Professor Angelini's research at the Bristol Heart Institute, a world-leading centre for translational cardiovascular research and the leading academic cardiac surgery centre in the UK. The posts of Professor Angelini and Professor Massimo Caputo, Chair of Paediatric Heart Surgery, are both funded by the charity.
Professor Angelini said: "Not only is Ranulph a world-famous adventurer and explorer who has pushed the limits of human endeavour and endurance, but he has raised over £20 million for charity.
"It's been fantastic to see him recover fully from the surgery some 15 years ago, going on to reach new heights and win many more accolades.
"His work to raise awareness heart disease, as a research ambassador for the British Heart Foundation, is invaluable and I'm proud to say we've become good friends over the years.He's an inspiration to us all."
Sir Ranulph was born in 1944 and educated at Eton College. He served with the Royal Scots Greys before joining the SAS.
In 1968 he joined the army of the Sultan of Oman and was later awarded the Sultan's Bravery Medal by HM the Queen.
Since 1969, when he led the British Expedition on the White Nile, Sir Ranulph has been at the forefront of many ground-breaking exploratory expeditions to remote parts of the world.
He's the only man alive to have travelled around the Earth's circumpolar surface and the first explorer to completely cross the Antarctic continent unsupported. Sir Ranulph is also a prolific writer and poet.
Further information
About Bristol Heart Institute
Bristol Heart Institute is one of seven Specialist Research Institutes (SRIs) designed to reflect the University of Bristol's strength and depth in key specialisms. The institute is a world-leading centre for translational cardiovascular research and the leading academic cardiac surgery centre in the UK. Specialising in preventing, predicting, detecting, reducing and treating cardiovascular disease, it brings together scientists and clinicians from across the University and the NHS in Bristol; training the next generation of cardiovascular scientists and clinical academics.