View all news
Calls for Government to limit 'collateral damage' caused to families by immigration enforcement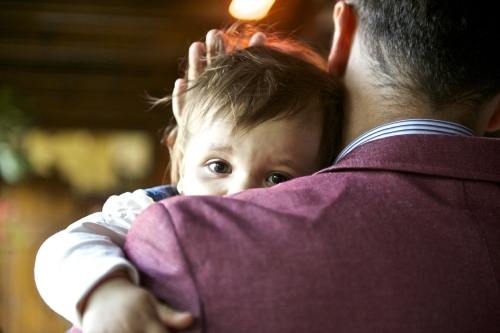 Press release issued: 9 January 2018
Political pledges to reduce immigration are splitting up families, according to new research which urges the Government to revise its policies in order to reduce 'collateral damage' inflicted on partners and children.
In the first study of its kind, funded by the Economic and Social Research Council (ESRC), researchers at the University of Bristol explored how a precarious immigration status impacts on family life.
Between 2014 and 2017, they followed 30 families consisting of foreign national men at risk of deportation and their British or European partners and children.
While partners and children are exempt from British immigration controls, the men's temporary or expired visas, asylum claims, illegal entry or criminal records make them liable to immigration enforcement measures such as immigration detention and removal from the country.
The men's immigration status prohibits them from employment and presents many other everyday restrictions, causing insecurity which was shown to harm the whole family.
Specifically, separation due to fathers being held in Immigration Removal Centres causes considerable financial and emotional damage, not only to the individuals detained but their family members.
Children are at risk of developing mental health, behavioural and educational problems, including anxiety, depression and attachment difficulties. Separation can lead to single-parent households and increasing welfare reliance.
British partners and children reported a diminished sense of Britishness and in some cases started to behave in ways more like precarious migrants than secure citizens, living with packed suitcases, carrying their passports in fear of immigration checks and unable to imagine a future.
Central to the issue is the Government's changing interpretation of rights under Article 8 of the European Convention on Human Rights: the right to respect for one's private and family life.
Dr Melanie Griffiths, from the University of Bristol's School of Sociology, Politics and International Studies, led the research. She said: "Immigration enforcement not only harms non-citizens but it indirectly affects the hundreds of thousands of Brits who are connected to 'detainable' people by friendship, love or blood.
"Article 8 of the European Convention on Human Rights is pivotal to this as it safeguards the right to respect for one's private and family life. However, major changes to the immigration rules in 2012 restricted this interpretation in settlement and deportation cases in response to political and media claims that Article 8 is a legal loophole which undermines British border controls.
"Our research shows that the Government should revert to its pre-2012 interpretation of Article 8 protections as its stringent enforcement is causing considerable collateral damage to families and children, including its own citizens."
Additional research data included interviews with practitioners from legal, private, state and NGO sectors; observation of deportation appeals and other immigration hearings; and analysis of changing media and political rhetoric.
Researchers found that good quality legal advice and representation is increasingly unobtainable and are calling for legal aid to be made available for human rights and immigration enforcement challenges.
They also found that gender, racial and class biases are apparent in immigration decisions, with an undervaluing of families involving foreign national men and suspicion amongst decision makers that such men opportunistically seek our relationships to help them remain in the UK.
As a result of the four-year study, researchers recommend changes to immigration detention, suggesting that community-based alternatives should be the norm; people should be held for a maximum of 28 days and in centres near their families; decisions to detain people should demonstrate meaningful assessment of potential damage to family units; and staff in detention centres should support detainees to maintain relationships.
Case study
Adam arrived as an unaccompanied asylum seeking minor a decade ago. He fell in love during the years waiting for an asylum decision. By the time he was refused refugee status, his British girlfriend was pregnant, and he was serving a second short prison sentence. On the day of release, his heavily pregnant partner was waiting for him outside the prison gates. Only then was Adam told that he was being transferred to immigration detention for deportation, rather than be released as a reformed man. The following week the baby was born, with Adam present 'virtually', by telephone and his girlfriend not long out of her teens.
The Secretary of State refused Adam's Article 8-based challenge to deportation. She argues that as a repeat foreign offender, his deportation is in the public interest and will not disproportionately interfere with his family life. Adam is presented as an absent father, with his detention undermining the strength of his fatherhood. Adam's young British girlfriend is living as a single mother, unable to work. The Home Office advises her and the baby to follow Adam to Iran, the country of deportation.