View all news
Alternatives to face-to-face GP consultations unlikely to deliver hoped-for benefits in practice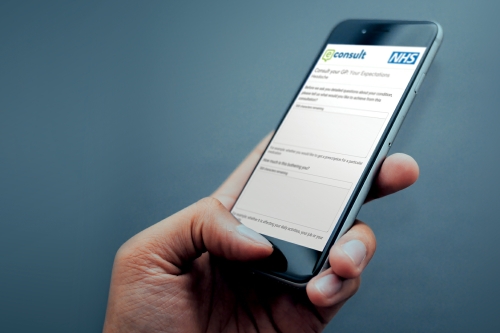 Press release issued: 30 January 2018
The realities of implementing alternatives to face-to-face GP consultations, such as telephone, email, online and video consultations, mean that hoped-for reductions in GP workload and increases in available appointments for patients might not be realised. This is the finding of a study by led by researchers at the University of Bristol, published in the British Journal of General Practice today.
NHS policy encourages general practices to introduce alternatives to face-to-face consultations as a way of increasing access to healthcare and reducing GP workload. However, the evidence on their use and effectiveness is limited.
The researchers studied, in depth, how a variety of technological alternatives to GP consultations were being used in eight general practices of different sizes, in different geographical areas – some urban, some rural – and in different areas of socioeconomic deprivation in the UK. They found that although there were some potential benefits, there were also significant barriers to implementation, with practices often responding to incentives to introduce new technologies without a clear rationale or clearly thinking through the likely costs and benefits for patients and practice staff.
There was also insufficient training of non-clinical staff, such as nurses and receptionists, on how to use the technologies appropriately and communicate the benefits to patients.
Professor Chris Salisbury from the University of Bristol's Centre for Academic Primary Care, said: "Technological alternatives to face-to-face GP consultations are being pushed as the solution to reducing GP workloads and increasing patient access to primary care services. The reality on the ground is that implementation is difficult. Practices are introducing the technologies for different reasons and a 'one size fits all' approach will not work.
"Our study shows that, currently, GP practices are struggling to identify and implement the most beneficial uses of these new technologies and they are frequently being adopted without sufficient understanding or support. Implementation was not well enough thought through in relation to personnel, training or logistical factors. As a result, efficiencies are not being realised.
"In particular, we identified a tension between the desire to make access to health care easier and more convenient, while at the same time aiming to reduce GP workload. We found that new ways of accessing health care advice may well increase rather than decrease GP workload."
Dr Helen Atherton, from the University of Warwick and lead author of the study, said: "For patients, the availability of a wider range of options for consulting could be very helpful for some patient groups but has the potential to reduce the time the doctor has available for face-to-face consultations, which could disadvantage other patients.
"Our findings suggest that policy-driven top-down approaches that use financial incentives as a way of encouraging adoption of alternative consultation methods is not the best way forward if efficiencies are to be made. Instead, individual practices should take a considered and tailored approach, based on the needs of their practice population, and available resource, so that there is equitable delivery of care.
"We have produced guidance for GPs that will help them do this and are planning to do further evaluations of newer technologies, such as electronic consultations and video consultations, in the future."
The research was a collaboration between the Universities of Bristol, Warwick, Oxford, Edinburgh and Exeter and was funded by the National Institute for Health Research (NIHR).
Paper:
'Alternatives to the face-to-face consultation in general practice: focused ethnographic case study' by Helen Atherton, Heather Brant, Sue Ziebland, Annemieke Bikker, John Campbell, Andy Gibson, Brian McKinstry, Tania Porqueddu, Chris Salisbury in the British Journal of General Practice
Further information
The Centre for Academic Primary Care (CAPC) at the University of Bristol is a leading centre for primary care research in the UK, one of nine forming the NIHR School for Primary Care Research. It sits within Bristol Medical School, an internationally recognised centre of excellence for population health research and teaching. Follow us on Twitter: @capcbristol.


Established in 2000, Warwick Medical School (WMS) forms the Faculty of Medicine at the University of Warwick, one of the UK's top universities. Home to the UK's largest graduate-entry MB ChB programme, WMS also offers tailored opportunities for professional development across the healthcare sector. Alongside a range of educational opportunities, WMS has a reputation for research excellence, investigating solutions to significant global health challenges. WMS is home to the Unit of Academic Primary Care which is a multi-disciplinary group of academics working to improve primary care through education and research.


This project was funded by the National Institute for Health Research Health Services and Delivery Research Programme (13/59/08).


The National Institute for Health Research (NIHR): improving the health and wealth of the nation through research. Established by the Department of Health, the NIHR:
funds high quality research to improve health
trains and supports health researchers
provides world-class research facilities
works with the life sciences industry and charities to benefit all
involves patients and the public at every step
For further information, visit the NIHR website www.nihr.ac.uk