View all news
Climate change increasing the prevalence of harmful parasite, warn scientists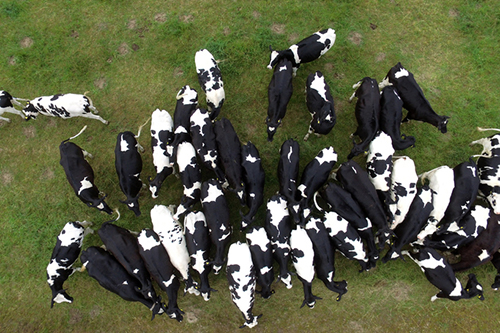 Press release issued: 29 August 2018
A rise in a parasite called liver fluke, which can significantly impact livestock production in farms in the UK and across the world, could now be helped by a new predictive model of the disease aimed at farmers. The tool, developed by University of Bristol scientists, aims to help reduce prevalence of the disease.
Cattle or sheep grazing on pastures where the parasite is present can become infected with liver fluke, which develops in the liver of infected animals, leading to a disease called fascioliasis. Current estimates suggest liver fluke contributes to around £300 million annually in lost productivity across UK farms and $3 billion globally.
Until now, risk predictions have been based on rainfall estimates and temperature, without considering the life-cycle of the parasite and how it is controlled by levels of soil moisture. This, combined with shifts in disease timing and distribution attributed to climate change, has made liver fluke control increasingly challenging.
A new tool for farmers has now been developed by the Bristol team to help them mitigate the risk to their livestock. The model, which works by explicitly linking liver fluke prevalence with key environmental drivers, especially soil moisture, will help farmers decide whether they avoid grazing livestock on certain pastures where liver fluke is more prevalent, or treat animals based on when risk of infection will be at its peak. Importantly, the model can be used to assess the impact of potential future climate conditions on infection levels and guide interventions to reduce future disease risk.
Ludovica Beltrame, one of the study's researchers from Bristol's School of Civil, Aerospace and Mechanical Engineering, said: "In recent decades, the prevalence of liver fluke has increased from 48 to 72 per cent in UK dairy herds. This new tool will help farmers in managing the risk associated with liver fluke and offers a more robust approach to modelling future climate change impacts."
Professor Thorsten Wagener from Bristol's Cabot Institute added: "Water-related diseases can be difficult to eradicate using medicine alone, as resistance to available drugs is increasing. We need predictive models of disease risk that quantify how strongly infection risk is controlled by our rapidly changing environment to develop alternative intervention strategies."
The five-year study comprising engineering, biology and medical researchers from the Universities of Bristol, Queen's University, Liverpool and Scotland Rural College, was funded by the EPSRC, the Royal Society, and Bristol's Cabot and Elizabeth Blackwell Institutes.
Paper
'A mechanistic hydro-epidemiological model of liver fluke risk' by L Beltrame et al is published in the Journal of the Royal Society Interface.
Further information
Further information
Liver flukes are parasitic worms that live in the bile ducts and the liver of infected animals. These parasites cause a disease called fascioliasis in cattle and sheep in the UK, while they have been reported to infect people in other parts of the world. The parasite's life cycle includes a snail host which lives in wet areas of the UK landscape.
The aim of the new model is ultimately to guide disease management that would be co-ordinated by a national organisation and the outputs communicated to farmers. The model is open source and available for other researchers through GitHub.
About the Cabot Institute
The Cabot Institute drives world-leading research on how we depend on, live with and affect our planet. It stimulates new thinking and strives for new innovations to meet our social and environmental challenges. Its communities focus on six crucial areas: global environmental change, food, water, low carbon energy, natural hazards and future cities and communities. Each community is driven by outstanding academics with government, industry and society partners from across the globe. Working together, they seek radical and integrated solutions to 21st century challenges.
About the Elizabeth Blackwell Institute
The Elizabeth Blackwell Institute for Health Researchis building a dynamic community of researchers from our health and non-health related disciplines to find innovative solutions for some of the most pressing health challenges of the 21st century. The Institute will achieve this through encouraging new ways of working, and also through fostering collaborative approaches between scientists, industry, clinical practitioners and patients.