View all news
Have you ever wondered why Disney's Robin Hood was a fox? National Lottery-funded project explores the answer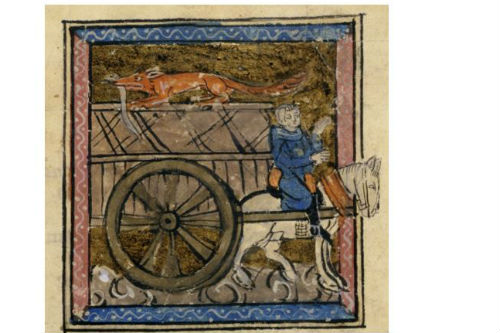 Press release issued: 20 August 2018
Most of us remember the Disney adaptation of Robin Hood, portrayed in the cartoon as a sly trickster fox. But did you ever wonder why the Prince of Thieves was animated as a fox in the first place?
The answer is that Disney originally planned to adapt the story of Reynard the Fox, the vulpine star of medieval Dutch fables, but decided they were too dark for young fans and instead used the character they had created to portray Robin Hood.
Now, organisations including Aardman Animation, the Bodleian Libraries, Bristol University and Flash of Splendour Arts are coming together to celebrate the character of Reynard, who also inspired the well-loved British hero Fantastic Mr. Fox as part of a wider project to explore the many cultural creations forged by historic Anglo-Dutch relations. The project, called 'North Sea Crossings' will see a landmark exhibition at the Bodleian Libraries combining literature, film, theatre and culture, with the help of a National Lottery grant.
The exhibition and accompanying activities across Oxford will begin in winter 2020.Communities across Oxford and Bristol are to be involved in the project: children from Special Educational Needs & Disability (SEND) schools in the two cities will receive training and mentoring from the Oscar-winning creators of Wallace and Gromit, Aardman, and create films inspired by Reynard's adventures.
The North Sea Crossings project is run together by Bristol University, the Bodleian Libraries and Flash of Splendour Arts. £163,100 from the National Lottery will help the project bring Reynard and the story of Anglo-Dutch relations to life in a number of ways:
A major exhibition at the Bodleian's Weston Library will tell the story of Reynard the Fox using the Bodleian's incredible historic collections. The free exhibition will run over 4 months in the winter of 2020 and will be of interest to adults and children.
An illustrated book, to be published by Bodleian Library Publishing, will re-tell Reynard's stories for young children with new vibrant illustrations. A catalogue accompanying the exhibition will also be available with more detail into the research underpinning the project.
Children with special educational needs and disability (SEND) in Oxford and Bristol will be given training in animation and filmmaking, mentored by experts at Aardman, the Oscar-winning studio behind Wallace and Gromit and Shaun the Sheep, so they can create their own films inspired by Reynard's adventures;
Theatre companies The Fabularium and Trouvère Medieval Minstrels will create child-friendly productions inspired by Reynard;
Following the exhibition, Oxford will celebrate 'Reynard the Fox week' in February half-term 2021. Local residents will be able to discover the lore of Reynard the fox through exhibitions, events, theatre performances, publications and activities. This will include a festival of fox films, featuring Reynard's descendants Robin Hood, Fantastic Mr. Fox, and films made by local students trained at Aardman.
Underpinning this activity is research from the University of Bristol into the heritage of Anglo-Dutch cultural relations, which were influenced by factors including migration, trade and marriage.
Despite focusing on this little-known area of study, the project will be inviting and accessible to all ages and abilities. It's important to open up this research to new audiences, because the ways children and young people with disabilities find to engage with the historical sources can provide the researchers with new and unexpected perspectives on texts.
Professor Ad Putter, Professor of Medieval Literature at the University of Bristol and academic lead for the project, said: "We are very excited in the English Department to be involved in the Heritage Lottery Funded North Sea Crossings project.
"This is a unique opportunity to take our research on Anglo-Dutch relations into the community, to enrich the lives of children, and to open the doors of our University to new audiences."
The project will also continue the cultural exchange it celebrates: Oxford is twinned with the Dutch town of Leiden whose impressive library was inspirational to Thomas Bodley, who founded the University's Bodleian Library. Oxford-Leiden events will include a Dutch Christmas celebration at the Bodleian, and are being run in partnership with Oxford Leiden Link.
The project is being run by the University of Bristol and educational outreach organisation Flash of Splendour, in partnership with Aardman, the Bodleian Libraries (University of Oxford), theatre companies and cinemas across Oxford, and Oxford's Dutch twinned town, Leiden.
Anne Louise Avery from Flash of Splendour said: "The Heritage Lottery grant will have a life-changing impact on the lives of the young people we work with, enabling them to acquire film-making skills from an Oscar-winning studios and explore ideas, art and literature to which they would never normally have access. North Sea Crossings is a hugely ambitious collaborative project and we hope that it will blaze a trail for real accessibility and innovation within university outreach."
Catriona Cannon, Deputy Librarian at the Bodleian Libraries said: "We're delighted to be working on such a unique collaborative project, with such a fantastic array of partners, and to be able to present an exhibition and range of events that will resonate with communities in Oxford and beyond. It's exciting to be able to present our historic, medieval collections to children and local communities and to be able to tell the fascinating story of Reynard the Fox and Anglo-Dutch relations."
Further information
About the Heritage Lottery Fund
Thanks to National Lottery players, HLF invests money to help people across the UK explore, enjoy and protect the heritage they care about - from the archaeology under our feet to the historic parks and buildings we love, from precious memories and collections to rare wildlife - www.hlf.org.uk
Follow us on Twitter, Facebook and Instagram and use #HLFsupported.
About Flash of Splendour
Flash of Splendour is an educational outreach organisation, based in Oxford, with extensive expertise working with children and young people with autism and learning disabilities. They are particularly experienced in collaborating with universities and museums to enable new and diverse young audiences to engage with academic research and complex literary and historical material, enabling them to gain transferable creative skills, and a new sense of self-confidence and self-empowerment.
Twitter: @petitflash
Website: www.flashofsplendourarts.com
About Aardman
Aardman, based in Bristol (UK) co-founded and run by Peter Lord and David Sproxton, is a world leader in animation. It produces feature films, series, advertising and digital entertainment for both the domestic and international market. Their multi-award winning productions are novel, entertaining, brilliantly characterised and full of charm that reflects the unique talent, energy and personal commitment of the very special people who make up the Aardman team. The studio's work is often imitated and yet the company continues to lead the field producing a rare brand of visually stunning and amusing independent and commercials productions. www.aardman.com
About the Bodleian Libraries
The Bodleian Libraries at the University of Oxford is the largest university library system in the United Kingdom. It includes the principal University library – the Bodleian Library – which has been a legal deposit library for 400 years; as well as 27 libraries across Oxford including major research libraries and faculty, department and institute libraries. Together, the Libraries hold more than 13 million printed items, over 80,000 e-journals and outstanding special collections including rare books and manuscripts, classical papyri, maps, music, art and printed ephemera.
Members of the public can explore the collections via the Bodleian's online image portal at digital.bodleian.ox.ac.uk or by visiting the exhibition galleries in the Bodleian's Weston Library. For more information, visit www.bodleian.ox.ac.uk. @bodllibs