View all news
Put your nutrition know-how to the test as part of Gromit Unleashed 2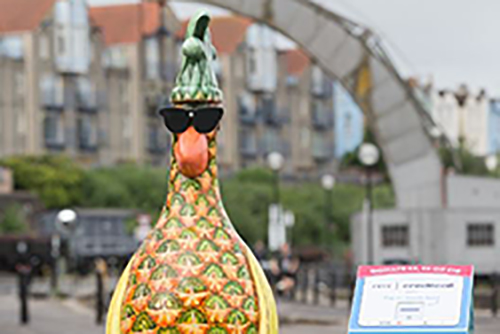 Press release issued: 30 August 2018
Gromit Unleashed 2 trail hunters are not only tracking down the popular pooch and his pals, they're also contributing to vital health research taking place in the city.
Wallace & Gromit's Grand Appeal, the Bristol Children's Hospital charity, has teamed up with nutrition experts at the University of Bristol to incorporate a mini healthy living quiz into the trail.
The results will give valuable insights into the public's knowledge of nutrition and will be used by The Grand Appeal and University of Bristol research dietitians, who work with families in Bristol Children's Hospital, in future research.
The two-minute quiz is available to complete online and also pops up on Gromit Unleashed 2's Detect-O-Gromit 2 app when people find the healthy eating hero sculpture 'Banana-arm-a' on North Street, Bedminster.
The Grand Appeal developed the idea after approaching Professor Julian Hamilton-Shield, who leads the nutrition theme within the NIHR Biomedical Research Centre, alongside colleague Vanessa Marshall, BRC Nutrition theme Manager.
He said: "It's been fantastic to work with The Grand Appeal and to be part of such a popular charity event, which has engaged with the public in a variety of innovative and fun ways this summer.
"Gathering this basic data from the thousands of families taking part in the trail is a great way to give us vital insight into peoples' understanding and knowledge of healthy living. We hope to publish data from the responses in a peer reviewed journal, continuing our research into childhood nutrition alongside Bristol Children's Hospital and The Grand Appeal."
Nicola Masters, Director of The Grand Appeal added: "As the Bristol Children's Hospital charity, childhood health is hugely important to us. Gromit Unleashed 2 is such a brilliant way for the whole family to stay active and so far, trail goers have covered nearly one million miles.
"We're really excited to further the healthy aspect of our trail by working with the NIHR Biomedical Research Centre team, University of Bristol and Bristol Children's Hospital."
The public can take part in the quiz online, and earn an exclusive discount off Gromit Unleashed 2 merchandise.
Further information
About Gromit Unleashed 2
Led by Bristol Children's Hospital Charity The Grand Appeal, Gromit Unleashed 2 sees Nick Park's Academy Award®-winning character Gromit return to Bristol in 2018 for his second starring role in the award-winning charity's sculpture trails. But this time he's not alone; the loveable pooch is joined by his pal Wallace and arch nemesis Feathers McGraw!
Gromit Unleashed 2 is bringing together the best and brightest of Bristol's diverse creative and tech industries. With the help of its pioneering 'Trailblazers' Creditcall, Renishaw, Rolls-Royce and the University of Bristol, Gromit Unleashed 2 showcases both Bristol's rich engineering heritage and the city's reputation as an internationally renowned creative and technological hub.
The Grand Appeal is proud to be the Bristol Children's Hospital charity, funding pioneering, life-saving equipment and research, including ventilators, a cardiac hybrid theatre and an inter-operative MRI scanner, so that patients have access to the best possible healthcare. We provide free accommodation to families of critically ill patients from the Neonatal and Paediatric Intensive Care Units, as well as providing a free family support service for parents and siblings. We ensure the hospital is a vibrant and child friendly place to help distract young patients through our music therapy, art and play programmes and much more.
Bristol Children's Hospital covers the largest geographic area of any children's hospital in England, treating more than 100,000 children each year, and serves as the paediatric intensive care centre for the whole South West region. The hospital is an international, national and regional specialist centre of excellence for a range of services including neurosurgery, burns, epilepsy, cardiac, leukemia and bone marrow transplants. For more information, visit www.grandappeal.org.uk
About the NIHR Biomedical Research Centre
The National Institute for Health Research Bristol Biomedical Research Centre (NIHR Bristol BRC) is a partnership between University Hospitals Bristol NHS Foundation Trust and the University of Bristol. BRCs conduct innovative translational medical science research to drive through improvements in health and healthcare, and encourage closer working with industry.
NIHR Bristol BRC brings together existing research excellence in Cardiovascular Research and Nutrition with three new Research Themes (Mental Health, Perinatal and Reproductive Health and Surgical Innovation).
The National Institute for Health Research (NIHR): improving the health and wealth of the nation through research
Established by the Department of Health and Social Care, the NIHR:
funds high quality research to improve health
trains and supports health researchers
provides world-class research facilities
works with the life sciences industry and charities to benefit all
involves patients and the public at every step