View all news
Bristol launches first city-wide pledge to children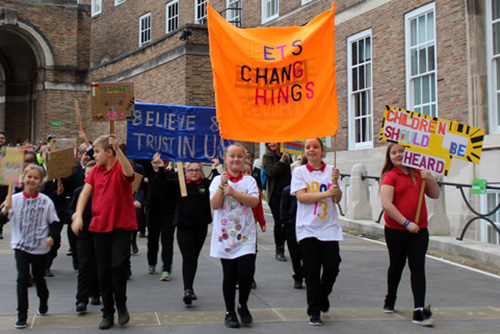 Press release issued: 1 August 2018
A charter setting out the city's aspirations for the children of Bristol has been unveiled at a ceremony during the city's biggest free play event, Bristol Playday.
The University of Bristol is one of many organisations in the city to sign the Bristol Children's Charter - a set of ten pledges to prioritise the rights and best interests of children.
Over 20 representatives of Bristol organisations large and small, including Gloucestershire County Cricket Club, Creative Youth Network, We the Curious and others, joined with families in signing the first charter.
Marvin Rees, Mayor of Bristol, said: "Organisations across the city are making decisions on a daily basis that, in some way or another, have an impact on the lives of children and young people. What this charter aims to do is provide those organisations, both private and public and across all sectors, with a set of aspirations that their decision making can contribute towards achieving.
"We recognise that apart we can each achieve many things for children and young people but it's only by working together to deliver our shared vision that we can create an environment where every individual has the opportunity to flourish. I am delighted to back this Charter and commit the council towards investing our resources to create a thriving city that is good for everyone."
The charter's pledges range from the protection of children from harm and having opportunities to play a full role in shaping the city around them to being able to have positive choices about their lives and development.
Professor Nishan Canagarajah, the University's Pro Vice Chancellor for Research and Enterprise, signed the pledge on behalf of the University and said: "Universities by their very nature exist to provide young people with opportunities. This pledge signifies our commitment to ensuring children in Bristol are offered a range of opportunities and the chance to flourish as they grow-up in this great city.
"Through our teaching, research and outreach activities, we look forward to working closely with the Council and partners across the city to ensure this new charter brings about positive changes for all children."
Bristol's degree in Childhood Studies has been ranked the best of its kind in the UK by the Guardian University Guide 2018 and academics within its School for Policy Studies have been working closely with the Council on a number of initiatives, including the Child Friendly City initiative which involved consulting with children on how to design a city which benefits them.
Last November, local children were invited to take over City Hall for a day of activities designed to co-design solutions to city issues that affect them such as litter and dog poo, traffic and transport and access to green space.
Further information
The Children's Charter doesn't replace already existing strategies such as the Bristol's Children, Young People and Families Strategy. Instead the charter has been developed with reference to these individual strategies and pulls together a set of high level ambitions that are shared themes across them all.
Aligning the pledges with those of the United Nations Convention on the Rights of the Child, the charter applies to every child without discrimination, whatever their ethnicity, gender, religion, language, abilities or any other status, whatever they think or say, whatever their family background.
The charter will now sit as part of the One City Plan, the emerging shared vision for Bristol being contributed to by key organisations across the city.
Any organisation wishing to sign the charter and become a part of the pledge to develop a city that protects and provides for the most vulnerable children and young people should contact Councillor Helen Godwin, Cabinet Member for Women, Children and Families on Cllr.Helen.Godwin@bristol.gov.uk