View all news
Professional award for Security Services Officer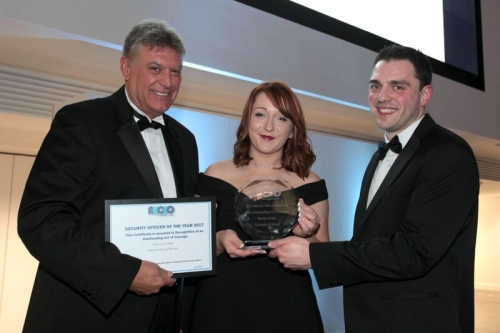 17 April 2018
Security Officer Stacey Jordan has won an award for 'Security Officer of the Year for an Outstanding Act of Courage' from the Association of University Chief Security Officers (AUCSO).
AUCSO is the primary association for security professionals working in institutions of higher and further education in the UK and Europe.
Stacey was on duty at a hall of residence last year when she responded to a serious student safety issue. Despite the risk of personal harm, Stacey engaged with the student and pro-actively managed the situation for an extended period of time until emergency services could arrive.
David Tonkin, Head of Facilities Management Soft Services at the University of Bristol, said: "We are thrilled that Stacey has won the award, going beyond what was expected with her personal courage and bravery. We take our pastoral role very seriously and Stacey epitomises the attitude and capability of our team."
The University's Security Services team was also awarded certificates of excellence in the 'Team of the Year' category and Steve Hill in the 'Security Officer of the Year' category.