View all news
Liz Lodge, 1959 – 2018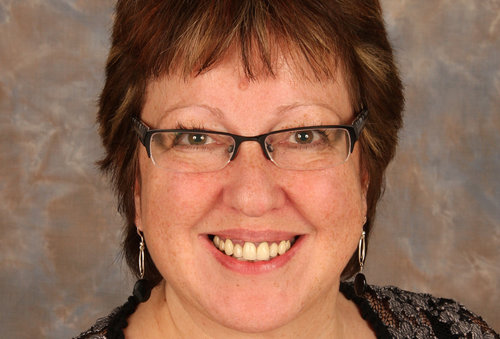 25 April 2018
Liz Lodge, Medical Receptionist for the Students' Health Service, has passed away at the age of 58. Louise Jones, Practice Manager, offers a remembrance.
Liz joined the Students' Health Service in 1993 as a part-time Medical Receptionist. Born and educated in Bristol, Liz qualified as a Dispensing Optician and worked as a Managing Dispensing Optician for Dollond & Aitchison, before seeking a part-time position whilst she raised her young family.
Liz was an instant success as a medical receptionist: well organised and efficient, friendly and outgoing. Liz provided a genuinely warm welcome to everyone who arrived at Student Health, and her caring and compassionate nature meant that she was always willing to give a bit of extra time and support to anyone who might need it. Her thoughtful care and attention extended to workplace colleagues as well as patients and their parents: Liz simply could not bear to see anyone unhappy and would do anything she could to make a situation better for them.
In 2002, Liz was promoted to the role of Administration Manager and as such took on the challenge of managing the large team of staff that she had previously belonged to. Once again, she proved to be a great success: the role gave her new opportunities to demonstrate her professionalism, her drive and her flair for organisation – new ideas from any quarter were welcomed, embraced, developed and implemented.
Liz was a bundle of positive energy and had a great sense of fun. Whatever challenges she faced outside the workplace (and over the years there were several) she always had a smile on her face and time to give: if she was having a bad day you'd never know it. Liz was also a hugely sociable person and regularly threw open her home for a variety of social activities and fundraising events to which all were invited. Her optical background never entirely left her, as throughout her career at Student Health she continued to sport very stylish eyewear.
In her personal life Liz loved to travel, fine dining, high tea in nice hotels, with the odd glass of prosecco along the way. When she took early retirement in 2015 she used this opportunity to travel and explore new places with her family and friends. Her sunny personality and overwhelmingly positive attitude to life will long be remembered with affection and respect by those who worked with her. Our thoughts are with Liz's family: Daryl, Matt and Jennie.