View all news
Bristol Vet student helps save newborn critically endangered lemur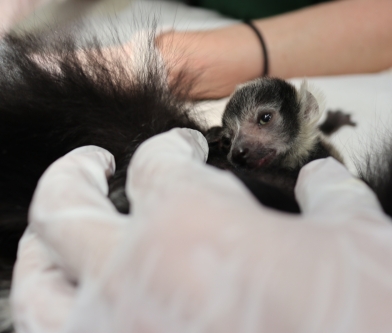 Press release issued: 30 April 2018
A University of Bristol MSc student who is also a zoo vet carried out a rare procedure with the help of keepers to save the life of a critically endangered new-born lemur at Wild Place Project in Bristol.
The team stepped in within hours of the tiny white-belted ruffed lemur and his two siblings arriving because their mum, Ihosy, was not showing any interest in them. The little lemurs, weighing just 60gms, 80gms and 100gms, were getting cold and dehydrated.

Sadly, the smallest of three died but a decision was made by vets and mammal keepers to take the unusual step of intervening to try to save the other two. Ihosy was given a mild anaesthetic and then taken with her babies to the animal care centre at Wild Place Project, which is owned and run by Bristol Zoological Society.

Then as she slept peacefully, a team of six comprising a vet, veterinary nurse and four keepers, placed the two babies on her so they could begin feeding. One of the babies was too weak and died later but the third pulled through and is now feeding regularly and is being cared for by its mum.

Sara Shopland, a zoo vet and MSc student at Bristol Veterinary School, said: "Ihosy reared two babies last year and was a good mum so we didn't expect this complication. This is quite a rare procedure and it's not something we commonly do but we decided we had to act."

Ihosy and her surviving baby are now in their nest box in their house built by Redrow Homes at Wild Place Project where vets and keepers are keeping regular checks on them.

Will Walker, animal manager at Wild Place project, said: "Ihosy is now looking after her surviving baby and all the signs are good.
"It was a great effort by my team and the vet team and we are so pleased that one of the triplets has survived."

Every white-belted ruffed lemur is crucially important to the future of the subspecies which has undergone a population decline of 80 per cent in just 21 years. The International Union for the Conservation of Nature now considers them to be at extremely high risk of extinction in the wild.

The main threats to the species in the wild are habitat loss due to slash-and-burn and commercial agriculture, logging and mining, as well as hunting for meat.