View all news
New discipline accelerates shape-changing abilities for everyday objects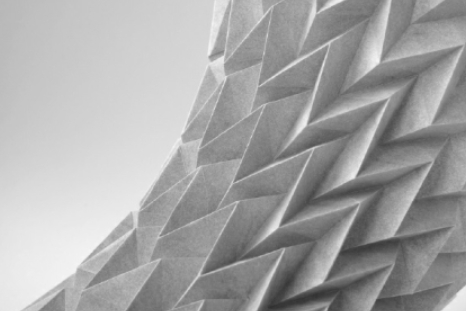 Press release issued: 21 April 2018
The creation of a new discipline will bring shape-changing abilities much more quickly to objects such as our mobile phones according to research published by the University of Bristol today [Saturday 21 April].
A new field of 'interactive metamaterials' will, for the first time, bring together human computer interaction and material science. It will also influence work in robotics, manufacturing, textiles and physics, to create a shift in the way research is conducted in making everyday and specialist objects change shape.
Presented at the world Human Computer Interaction (HCI) conference in Montreal this week, the paper 'HCI meets Material Science' gained an honourable mention as it creates a new road map for designers who want to learn more about the advances in material science and use them for the design of shape-changing interfaces.
The authors from the Bristol Interaction Group, Isabel Qamar and Anne Roudaut, commented: "The end goal with our review of 267 papers in both material science and human computer interaction is to kick start a new research field in 'interactive metamaterials'.
"The implementation of shape-changing interactive devices still has a long way to go despite tremendous breakthroughs in advanced materials. The problem is that the tools and methods developed are confined to their respective industries.
"The time has come to let the field of interactive devices exploit advances made in some of the fundamental sciences, such as in the development of morphing automobiles and aircraft. For example, it would allow our phones or other devices to reconfigure so when launching a game, a phone would curl its edges to facilitate grasping and a physical joystick would pop out from the screen.
"By bringing together the material and computing communities to talk in the same language with common hardware and software platforms, we will start to see changes to everyday and specialist objects in the near future.2
The group have produced a short film for the conference illustrating how HCI can meet material science.
Paper:
'HCI meets Material Science: A Literature Review of Morphing Materials for the Design of Shape-Changing Interfaces' by Isabel Qamar, Rainer Groh, David Holman and Anne Roudaut in the Proceeding of the Conference on Human Factors in Computing Systems
Further information
The Bristol Interaction Group build novel interactive devices, deploy new forms of interaction and evaluate in everyday settings. They are computer scientists, material scientists and social scientists, known for their research with materials and devices, with applications in healthcare, sustainability, accessibility and fabrication.


The Leverhulme Trust and the Engineering and Physical Sciences Research Council funded part of this work. It especially contributes to the project Automorph (EP/P004342/1) aiming at Bringing Rigor to the Creation of Morphing Interactive Devices, but also work toward EPSRC EP/M013170/1 and EP/N013948/1.


The Bristol Interaction Group had eight papers accepted for the Human Computer Interaction Conference this year including research four papers advancing the state of shape changing devices research: