View all news
Chinese grads celebrate time in Bristol at University's first Shanghai Graduation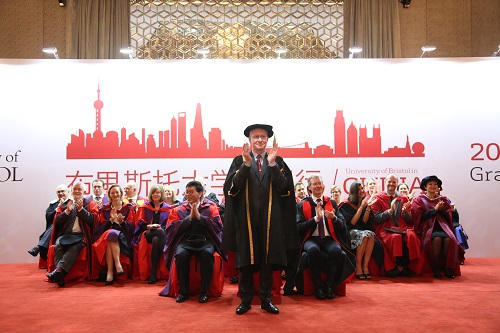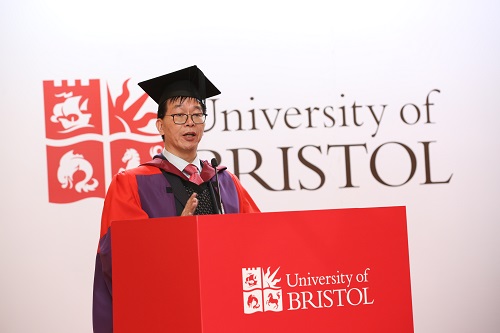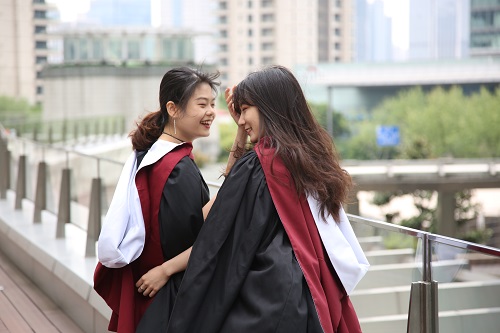 Press release issued: 14 April 2018
The University of Bristol's most recent graduates were given the opportunity to celebrate with family and friends at a UK-style Graduation Celebration in Shanghai today (14 April).
This is the first time the University has hosted such an event in Shanghai and follows hugely successful degree ceremonies in Beijing in 2013, 2015 and 2017.
Over 250 recent graduates and their friends and family attended the inaugural graduation celebration in Shanghai, along with the University's President and Vice-Chancellor, Professor Hugh Brady, Vice-President and Pro Vice-Chancellor, Dr Erik Lithander, and the University's largest ever delegation of staff and academics to visit China.
The ceremony's Distinguished Guest was Bristol alumnus, Professor Weicheng Cui, one of China's leading scientists and a pioneer of deep-sea research.
"Today was a fantastic opportunity to celebrate the achievements of our most recent graduates here in China. Graduation is such an important part of a UK education and it's a privilege to be able to host an event here in Shanghai where graduates can share the experience with their family and friends and be welcomed to our alumni community.
"The energy in the room today was electric! It is certainly one of the greatest honours as President and Vice-Chancellor to be able to greet each graduate on stage and wish them the best in their future lives and careers," said President and Vice-Chancellor of the University of Bristol, Professor Hugh Brady.
"I am so proud of my country so to be able to graduate in Shanghai was very special. It was extra special to have my parents here," said Wantao Huang who graduated with a MSc in Biomedical Engineering. "I now work for Siemens here in China and having a degree from the University of Bristol has really helped with my career."
"This has been the best reunion ever. Meeting all my friends from Bristol again in China has been great. I feel very proud to be able to graduate from Bristol here in China," said Feng Zhu who graduated with a MSc in Teaching English to Speakers of Other Languages.
Nurturing research talent
The University of Bristol's reputation for nurturing research talent was exemplified today by the Distinguished Guest, Bristol alumnus Professor Weicheng Cui. He is the Dean of Deep Sea Science and Technology at Shanghai Ocean University and was recently named a 'science star of China' by Nature magazine for his record-breaking work on manned deep-sea submersibles, including the Chinese Government funded Jiaolong.
"I have always been fascinated by the idea of exploration and pushing frontiers. I chose to do my PhD at Bristol because it is a world-class institution which combines a strong research heritage with a pioneering approach to the advancement of human knowledge," said Prof. Weicheng Cui.
In 2014 he founded Rainbowfish Ocean Technology Co Ltd with two fellow Bristol alumni, with the aim of building the world's first commercial, deep-sea submersible fleet. Their ambition is to reach the deepest place on Earth — the bottom of the Mariana Trench, 11,000 metres down – by 2020. In recognition of the high value he and colleagues place on their University of Bristol education, Rainbowfish has maintained links with the institution by providing internships to Bristol students.
"At Rainbow Fish we are concerned with pushing ourselves to the very edge – or depth - of deep sea exploration. To do this we need interns who share our passion and inventive spirit. I believe the University of Bristol nurtures these values and produces students who are well equipped to help us succeed in our mission," said Prof. Weicheng Cui.
Sir Paul Nurse, the University's Nobel Prize-winning Chancellor and renowned geneticist, addressed graduates in a televised address:
"Graduation is a time to celebrate your achievements at Bristol with family and friends and to look forward to the future. I have been to China many times and I am a great admirer of your country. Like you and all of your fellow graduating students, the University is growing and transforming. We're building on our international connections and partnerships to help solve the grand challenges of the 21st century. But we never lose sight of our traditions and our history – and you are now part of that history, just as we are part of yours."
Further information
The Shanghai graduation celebration is the flagship in a schedule of other activities arranged by the University of Bristol, including a research event in Beijing on the topic of smart cities, alumni and offer-holder events in Shanghai and Beijing, and various high-profile partnership visits to Chinese universities.