View all news
University of Bristol partners leading Chinese tech companies to host smart city research forum in Beijing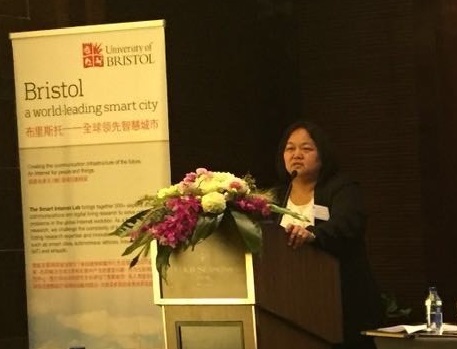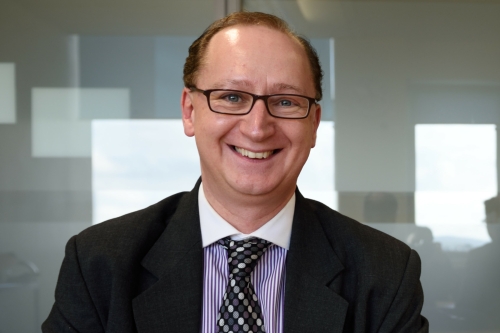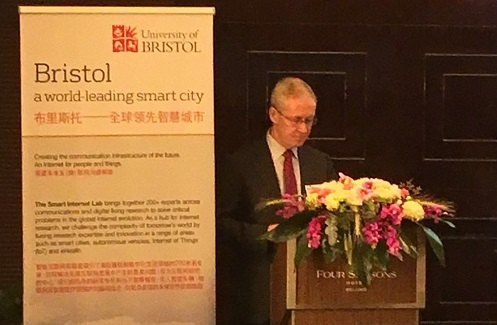 Press release issued: 16 April 2018
Word-leading experts from the University of Bristol and the provider of the world's largest mobile network, China Mobile, shared their insights into how 5G and the massive Internet of Things (IoT) will service rapidly expanding cities in China and around the world at a research forum in Beijing today [Monday 16 April].
President and Vice-Chancellor of the University of Bristol, Professor Hugh Brady and Professor Andrew Nix, Head of the Communication Systems & Networks (CSN) Group and Dean of the Faculty of Engineering at Bristol, were joined on the expert panel by Dr Chih-Lin I, Chief Scientist for Wireless Technologies at China Mobile Research Institute.
Autonomous vehicles and high-speed rail connectivity, smart tourism and eHealth were just some of the future innovations discussed as the panel shared insights into how emerging smart technologies can help cities around the world address the challenges posed by rapid urbanisation.
The University of Bristol is conducting pioneering research into 5G capabilities, and its expertise in this field was one of the factors that led to Bristol being named Global Smart City at the Global Mobile awards (GLOMOs) 2018. Through its Smart Internet Lab and High Performance Networks Research group, the University is driving real-world research – including a city-wide 5G testbed – leading to major advances and models for increasingly interconnected and resource-efficient cities.
Professor Hugh Brady, Vice-Chancellor and President of the University of Bristol, said: "University of Bristol academics have over the years developed close ties with their Chinese peers and Chinese companies to research solutions that will make the future more liveable. According to the UN's latest report, another 2.5 billion people will live in cities worldwide by 2050, with many of those in China, and only through strong research collaboration can we make the urgent breakthroughs we need."
Professor Andrew Nix said: "Wireless technologies, along with integrated fibre and core network solutions, will play a crucial role in the development of hyper-connected cities. For the past two years the Chinese government, in its annual work report, has highlighted 'to promote the development of 5G mobile communications', so we are excited to be able to share our experience in Beijing today and to hear from those at the forefront of China's 5G and smart city revolution."
Professor Nix talked about the University's world-leading innovations including trials of Massive MIMO leading to world record-breaking 5G wireless spectrum efficiency, advanced 3D planning software to support the global roll-out of 5G networks and a 5G network planning model to support New Radio (NR) technologies: massive MIMO and beamformed milimeter wave (mmWave) communications. He also shared insights into high-speed rail connectivity and connected, autonomous vehicles.
Dr Chih-Lin I, Chief Scientist for Wireless Technologies at China Mobile Research Institute, said: "Effective wireless communications will be essential to deliver the best services for society and business in emerging smart cities. As a world leader in the development of wireless standards, China Mobile is very happy to be partnering with the University of Bristol to jointly research next-generation wireless communications solutions that will help cities to thrive and become smarter in the digital age."
Further information
Bristol wins Global Smart City Award and overtakes London as UK's smartest city
Bristol has just been named winner of the Global Smart City Award at this year's Global Mobile Awards (the GLOMOs - the 'Oscars of the mobile industry') and in 2017, Huawei UK stated Bristol had overtaken London as the UK's leading smart city in its second Smart Cities Index.
About the University's Smart Internet Lab
The Smart Internet Lab at the University of Bristol, is a hub for internet research which addresses grand societal and industrial challenges. With more than 200 experts and advanced laboratory infrastructure, we perform cutting edge research on optical and wireless communications. We offer a unique holistic approach to hardware and software co-design solving critical problems in the global internet evolution. Our innovative research on end-to-end, wired-wireless network design and optimization is pushing the boundaries of digital living and communications. Our exceptional track record for performing 5G research with specific focus on fibre and 5G convergence is evidenced by significant funding from the UK Government, EU and industry (e.g. EPSRC TOUCAN, INITIATE, NDFIS, EU: 5G-Xhaul, 5GPICTURE, mmMAGIC, FUTEBOL, FLAME and 5GinFIRE, DCMS UK Government).
World's first urban 5G experience hosted by University of Bristol and partners
For the first time anywhere in the world, on the weekend of 17/18 March, people experienced the next generation of wireless technology – 5G - in a public urban environment in Bristol. There were spectacular 3D-like projections, a virtual reality dance piece, a guided tour on which people could take a walk through time, and a programme of talks and demonstrations.
The University of Bristol in China
A significant delegation of senior academics and leaders from the University of Bristol will travel to China in April. The Smart Cities research event in Beijing is part of a schedule of other events, including the University's first Graduation celebration in Shanghai on 14 April, alumni and offer-holder events in Shanghai and Beijing, and various high-profile partnership visits to Chinese universities.
The dedicated microsite for the University of Bristol's visit to China in April 2018 can be found here.