View all news
Artist-in-residence opportunities for the new Temple Quarter Enterprise Campus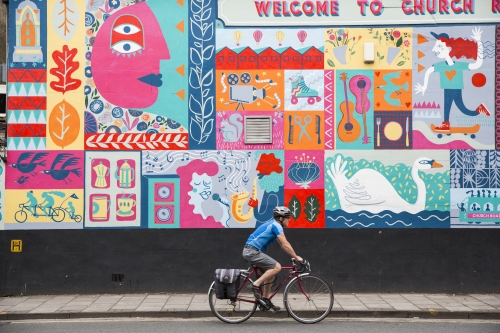 Press release issued: 23 April 2018
Poets, writers, artists and film makers are invited to apply for three artist-in-residence opportunities for the University of Bristol's new Temple Quarter Enterprise Campus.
The artists will work with the University and local communities, reflecting on the history of the site and imagining the new Temple Quarter Enterprise Campus, which is due to open in 2021/22.
They will also be expected to take part in events and provide a dedicated programme of community engagement activities during the early stages of development.
The new campus will be built on the site of the former Royal Mail sorting office close to Temple Meads Rail Station. It has recently been derelict but has also been a site of biodiversity and play, an informal music venue and a canvas for graffiti.
This site also has a much longer history, including as a site of industry, the location of a cholera pit, a place of transport links and as monastic land.
When the new campus opens academics and students will work with business and community partners to develop digital, social and economic innovation to address real-world urban challenges. The campus will be an open and welcoming space, inclusive for all.
Guy Orpen, Deputy Vice-Chancellor of the University of Bristol, said: "The Temple Quarter Enterprise Campus gives us a fresh opportunity to strengthen the University's relationship with the city and its communities.
"Appointing artists-in-residence at an early stage of the development will help us to connect with those communities, reflecting on the history of the site and preparing for its innovative future. Bristol has a rich culture of poets, artists, film makers and writers and I look forward to seeing the submissions for this exciting project."
The application deadline is Tuesday 8 May 2018. Applicants should be experienced poets, writers, film makers or artists. Shortlisted applicants will be invited to present their proposals on Tuesday 22 May.
For full details, visit the Temple Quarter Enterprise Campus website.