View all news
School students 'graduate' from unique university taster course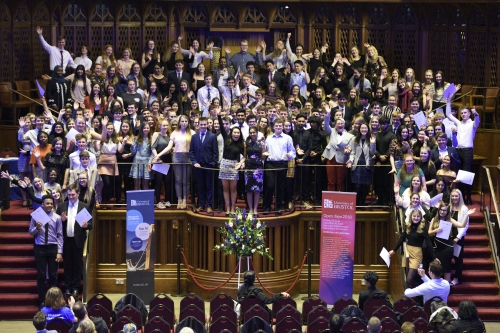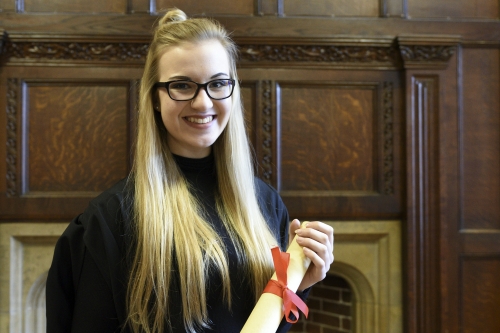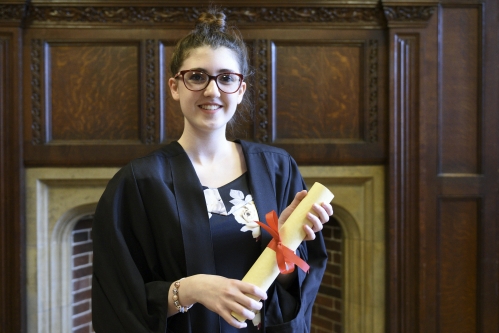 Press release issued: 26 April 2018
Almost 800 students from schools and colleges across the Bristol area have 'graduated' from a unique scheme which gives them an insight into studying at university.
The Access to Bristol course, run by the University of Bristol, is designed to encourage and inspire pupils who might not otherwise consider going onto higher education.
A total of 783 local students, all studying for their A-levels or an equivalent qualification, have completed the programme this year and many of them celebrated with friends and family at a special ceremony in the Wills Memorial Building yesterday [25 April].
The high-achieving students are from 66 state schools and colleges within an hour's journey from the University. Many may not have previously considered going to university or are from families who don't have a history of attending university.
The scheme, which had over 1,700 applicants, is hugely popular as it offers participants a guaranteed place or interview at the University of Bristol, should they later decide to apply for a place and meet the entry requirements. Many graduating students are also eligible for a bursary.
Many of the graduating students will go on to study at the University of Bristol in the coming years. In 2017, the University welcomed 118 students who completed the scheme - a record number and more than double the previous year.
Lucy Collins, Head of UK Student Recruitment, said: "The event is a really special moment for all those who have taken part in the Access to Bristol programme, their families and friends. The young people should be very proud of what they have achieved.
"The scheme is about giving students an exciting and challenging experience and, for many students, it helps them to make that final decision about the subject they wish to study and see that university is a viable option.
"We hope this will be the start of their relationship with the University and that we'll see many of them back in the Great Hall, graduating from their chosen degree programme in years to come."
In the style of a traditional graduation ceremony, family and friends gathered in the Great Hall of the Wills Memorial Building as students were presented with their certificates.
There were speeches by Professor Judith Squires, Pro Vice-Chancellor at the University of Bristol, as well as official photographs.
Access to Bristol requires students to attend a series of sessions, held at the University on Wednesday afternoons, studying one of 26 subject streams.
Each session is designed to give students an idea of what it is like to study at the University, working with academics and current students who can offer advice and guidance about higher education and their chosen area of study.
Advice is also on hand to help students write a good university application and prepare them for the challenges of university life, such as managing their finances.
Also attending the ceremony were 32 students who completed the Pathways to Law programme, which is similar to Access to Bristol but concentrates on Law and takes place over a two year period, including the academic taster sessions but also work experience, court visits and an e-mentor.
Pathways to Law was set up by The Sutton Trust and The Legal Education Foundation, with support from major law firms.
There were also two students who completed an accelerated version of a new programme called Pathways to Health Sciences, which provides particular support for students interested in studying Dentistry, Medicine or Veterinary Science. Around 90 more are due to graduate from the two-year programme in 2019.
The University of Bristol has run Access to Bristol since 2006. In that time, around 3,000 students have completed the course and over 400 have gone onto study at the University.
Alexandra Farrell-Thomas, 22 and a previous pupil at Cleeve School in Gloucestershire, completed Pathways to Law in 2014 and graduated with a 2.1 from the University in 2017. She's currently studying for her LPC and has secured a training contract with Osborne Clarke, which begins in September.
Alexandra said: "The scheme was one of the best things I have ever done. Although I gained exposure to other Russell Group universities, participating in Pathways with Bristol University led me to the decision that that was where I wanted to study.
"The highlight of my Pathways to Law experience was my work placement with Osborne Clarke LLP which was arranged by Pathways. Early exposure to the legal sector helped my applications to stand out when applying for future placements with law firms; few people in sixth form have legal experience.
"This opportunity helped to obtain another two-week placement with Osborne Clarke, following which I was offered a training contract which is due to commence in September 2018. I cannot wait to be a trainee lawyer and it is largely thanks to Pathways to Law that I will be."
Applications for the 2018/19 scheme will open in September 2018. More information is available on the Access to Bristol webpage.
Further information
Case studies
Victoria Cocks, 20, from Westbury
Victoria is currently studying for an Access to Higher Education course at Bath College. She holds an offer to study Sociology at the University of Bristol having completed the Sociology stream of Access to Bristol. She will be the first person from her family to go to University.
Victoria said: "I found Access to Bristol really beneficial. I knew I wanted to go to university but didn't know what to study or what to expect. My parents didn't go to university and not many of my friends have, so it's not something I've really been exposed to.
"Having the chance to experience lectures, go inside the buildings and get to know people really helped. It really opened my eyes to what university had to offer and has given me so much more information than an open day."
Daisy Gazzard, 17, from St George
Daisy is currently studying for A-levels in English, Media and History at St Brendan's Sixth Form College. She took part in the Film and Television stream of Access to Bristol and will be the first person from her family to go to university.
Daisy said: "I wasn't sure if I wanted to go to university beforehand, but the course really inspired me. I now want to study Medieval History and have been looking at the different degrees on offer, including Bristol.
"The talks on finance were helpful and reassured me that attending university was possible. My parents are really pleased that I'll be going to university – I think they're quite envious as they never had the opportunity!"