View all news
Award-winning mental health campaigners to share their story with students and staff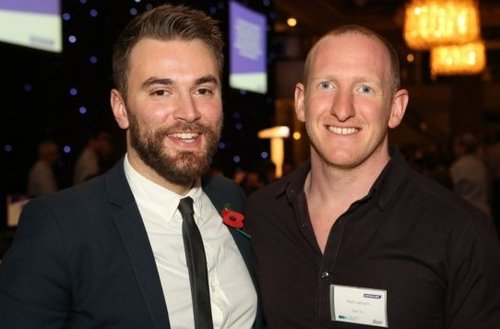 19 September 2017
On Friday 6 October, mental health campaigners Jonny Benjamin and Neil Laybourn will join the University of Bristol as we sign the Time to Change pledge.
Vice-Chancellor & President, Professor Hugh Brady, will sign the Time to Change pledge in front of staff and students as part of our commitment to changing the way we think, talk and act about mental health, and ensuring that everyone at the University of Bristol who may be facing mental health difficulties feels supported.
Professor Brady will also introduce the changes the University is making this year to support the wellbeing of those who study and work at Bristol.
Following the pledge signing, Jonny and Neil will share their inspirational story which started in 2008 when Neil stopped Jonny from jumping off London's Waterloo Bridge. Their story was documented in Channel 4's Stranger on the Bridge and now staff and students can hear their story first-hand and have the opportunity to ask any questions.
Services from across the University and our partners within the city will also come together as part of an exhibition of mental health and wellbeing support, sharing information, activities and advice. Exhibitors include University student and staff support and counselling services; Bristol Students' Union; Sport, Exercise and Health; The Samaritans; Time to Change and the new Centre for Health Law and Society.
The exhibition starts at 3.00 pm, with the pledge signing at 4.00pm. Staff and students can get free tickets via Eventbrite.
In making a pledge, the University of Bristol joins thousands of others in showing support for those facing mental health discrimination and marks our collective commitment to ask friends, loved ones, colleagues and peers how they are, be there when they need our support, challenge stigma and discrimination when we see it and share our own stories to help others understand mental health. You can listen to Sam's story here and hear from other staff and students on YouTube.
If, like Sam, you'd like to share your experience of mental health and help to reassure others, please contact communications-team@bristol.ac.uk.
Further information
One in four people are affected by mental health problems each year. Nine in ten of those experience stigma and discrimination. Time to Change is a national movement campaigning against mental health discrimination to improve public attitudes and behaviour, reduce the amount of discrimination people report and increase confidence to challenge discrimination. So far, 535 organisations have made the pledge.