View all news
Revamped Clifton garden opens its gates to the public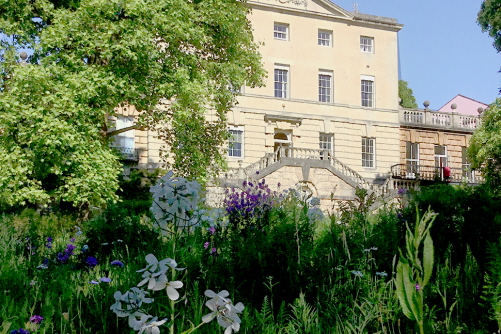 Press release issued: 4 September 2017
One of Bristol's oldest and most striking heritage estates has been restored, following a huge re-vamp to reinstate its original Georgian features.
Clifton Hill House Garden has been owned by the University of Bristol for more than 100 years and a £35,000 funding boost from the Heritage Lottery Fund (HLF) has enabled Volunteer coordinator Louise Hopkins and many volunteers to return the garden to its former glory over the past 12 months.
The garden will hold an open day for the public on Sunday 10 September, giving locals a chance to enjoy the beautiful grounds as well as learn about its heritage and horticulture.
Steeped in history since it was completed in 1750 and today a hall of residence, the Georgian house won a national award for its restoration in 2004. Thanks to the recent works, the surrounding grounds of the Palladian-style mansion now provide a fitting backdrop.
Bristol landscaper Nicola Greaves has remodelled the garden in a traditional Georgian patte d'oie (goose-foot) layout, based on historic records of the garden shown in maps of Clifton from the time.
Clifton Hill House's renowned architect, Isaac Ware, was a supporter of the 'landscape garden movement'. Befitting of this style, the garden has been given a naturalistic feel, with a wildflower meadow, a woodland walk and a wildlife pond.
As part of the project, one of the 'turrets' - an intriguing garden folly which is believed to predate the house, has been restored. A blue plaque will also be instated in honour of Dame Katherine Furse, who was born at Clifton Hill House in 1875 and who went on to found the English Voluntary Aid Detachment (VAD) force.
Alan Stealey, Head of External Estates at the University of Bristol, said: "We are thrilled to finally be able to open the garden to the public. The University is a custodian of Bristol's heritage and Clifton Hill House has played an architectural and social part in its development. We are very grateful to the HLF and volunteers who've given up their time to make the restoration possible."
The University of Bristol regularly holds historic garden tours and events. To find out what's coming up visit the University of Bristol garden events webpage.