View all news
On top of the world: Bristol students scoop first prize at Space App Camp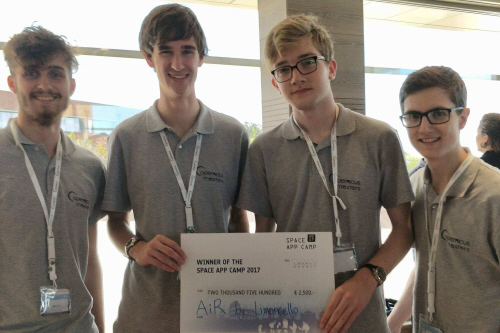 Press release issued: 3 October 2017
Students at the University of Bristol have won first prize in the European Space Agency's (ESA) 2017 'App Camp' in Rome.
The innovative new travel app is the brainchild of four Computer Science students: Lewis Bell, Brendon Warwick, Jay Lees and Charlie Harding.
Using earth observation data from the ESA's 'Copernicus' Satellite, the app gives passengers an interactive bird's-eye view of their route as well as facts about the cities and landmarks they pass over.
The Bristol team were selected out of thousands of hopefuls from across Europe and Canada to take part in the project.
As overall winners, they were collectively awarded 2,500 Euros as well as potential funding support from the European Space Agency's partners if they choose to bring the app to the market.
Brendon said: "Being flown out to beautiful Frascati was an amazing experience provided by the ESA that we will never forget. After winning, we were advised to start a company, so right now we're working with some connections we made at the University to advise us; we are very excited for the future ahead."
The Bristol students were scouted for the competition following the success of an app they developed to encourage young people to vote in the General Election earlier this year.