View all news
Gearing up for Gromit: students to help make charity trail the 'most innovative yet'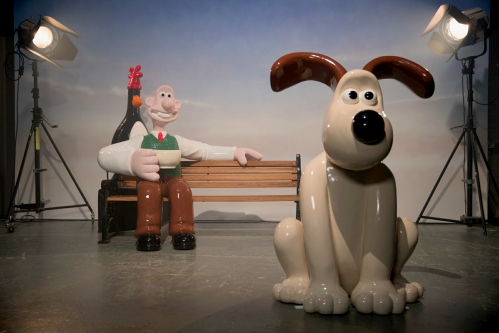 Press release issued: 17 November 2017
Bristol Children's Hospital charity Wallace & Gromit's Grand Appeal has unveiled the highly anticipated secret of which iconic Aardman character will take to the streets of Bristol next summer – with a little help from students at the University of Bristol.
In its third major arts trail with the Academy Award®-winning animation studio, not one, but three sculptures will be appearing in the 2018 event.
Returning to Bristol for his second starring role in the charity's 2018 sculpture trail is Nick Park's much-loved character Gromit, who will be joined by his pal Wallace and arch nemesis Feathers McGraw.
From Monday 2 July until Sunday 2 September 2018, over 60 sculptures will descend on Bristol and will raise money for Bristol Children's Hospital and the Special Care Baby Unit at St Michael's Hospital.
Not only will Gromit Unleashed 2 be the first sculpture trail in the world to feature three licensed characters, a number of Bristol's leading institutions, pioneering technology companies and international engineering firms will bring their renowned expertise to make this the most innovative sculpture trail yet.
The University of Bristol will be one of the 'trailblazers' playing a significant role in the trail, alongside Creditcall, Renishaw and Rolls-Royce.
Colin Dalton, Undergraduate Education Director in the Faculty of Engineering, said: "We're really excited to be involved in the next sculpture trail, which promises to capture the imagination of people in the city and beyond.
"While it's too early to reveal how our students will be involved, let's just say that their creative and technical skills will be put to good use. It's a fantastic opportunity for them to develop their skills in a real-world context, working on such a popular project and helping to raise money for an excellent local cause."
The University of Bristol has supported The Grand Appeal since 1997 and tours it runs of the Wills Memorial Building have raised over £32,000.
It's also the proud owner of 'Bark at Ee' Gromit and 'Wish ewe were here' Shaun the Sheep statues.
Nicola Masters, Director of Wallace & Gromit's Grand Appeal, said: "When we started planning this trail, we knew that we wanted to create a truly unique, trailblazing event. Bristol is recognised internationally for both art and technology, but our vision was to bring the two traditionally separate disciplines together. Where better to do this than the UK's most inspiring city.
"We're looking forward to working with organisations at the forefront of their respective fields to take this trail to unprecedented and exciting places. All of them, like us, have a rich heritage in this wonderful city that we're proud to call home."
Wallace & Gromit creator Nick Park and Aardman founders Peter Lord and David Sproxton added: "It's been nearly a quarter of a century since we brought Wallace, Gromit and Feathers together in The Wrong Trousers, and we're delighted that they'll be together once again in our home city of Bristol.
"The Grand Appeal trails have raised an incredible amount of money for a cause that's very close to all of our hearts here at Aardman. We can't wait to see our beloved characters take the city by storm next summer, putting smiles on the faces of the many families and friends who adore these trails."
Further information
About Gromit Unleashed 2
Gromit Unleashed 2 will be brought to you by the team that created the award-winning public arts trails Gromit Unleashed and Shaun in the City in 2013 and 2015 respectively, raising over £6 million for sick children in hospital.
2.5 million people visited the trails
50 per cent of visitors to the trail came from outside Bristol and the South West
Number 1 app in the iTunes chart for both trails (120,000 downloads of the Shaun in the City app)
Sell out exhibitions
Estimated media reach of over 1 billion
About the Grand Appeal
The Grand Appeal is the Bristol Children's Hospital Charity.
The award-winning charity has raised over £50 million to save lives and support sick children and their families at Bristol Children's Hospital since 1995.
The funds we raise has helped and is helping, patients and their families in the hospital to have access to the best medical care, pioneering equipment, expert doctors and nurses, family accommodation and patient activities possible.
Bristol children's hospital is one of the UK's leading children's hospitals treating over 100,000 patients every year from Bristol, the South West of England, and South Wales and beyond. The hospital is an international, national and regional specialist centre of excellence for a range of services including neurosurgery, burns, cardiac, leukaemia and bone marrow transplants.
The charity pioneered character-led sculpture trails to international acclaim with Gromit Unleashed and Shaun in the City and runs a truly unique charity shop and online retail store at www.wallaceandgromitcharityshop.org.uk.
About Aardman
Aardman, based in Bristol (UK) co-founded and run by Peter Lord and David Sproxton, is a world leader in animation. It produces feature films, series, advertising and digital entertainment for both the domestic and international market. Their multi-award winning productions are novel, entertaining, brilliantly characterised and full of charm that reflects the unique talent, energy and personal commitment of the very special people who make up the Aardman team. The studio's work is often imitated and yet the company continues to lead the field producing a rare brand of visually stunning and amusing independent and commercial productions.