View all news
Future engineers awarded Arkwright Scholarships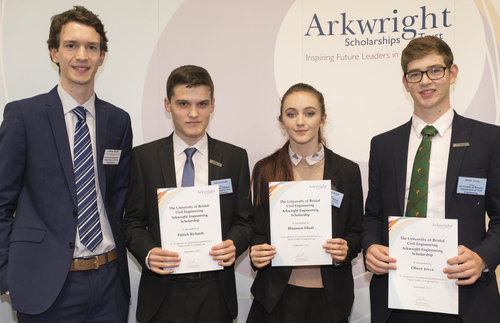 21 November 2017
The Department of Civil Engineering has awarded three sixth-form students with Arkwright Engineering Scholarships.
Rhiannon Elliott, Patrick Richards, and Oliver Joyce were joined by PhD student and Arkwright mentor Joshua Mudie at the Institution of Engineering and Technology Headquarters for a ceremony which saw over 425 scholarships awarded to students across the UK.
Scholars are selected for their potential as future engineering leaders by assessing their academic, practical and leadership skills in STEM. The Scholarships consist of an annual financial award, and enrichment activities such as mentoring and industry visits that enhance the Scholars experience of engineering in a real-world context.
This year's students form the second cohort of scholars that have been sponsored by the Department of Civil Engineering, run by Joshua and Teaching Fellow Laura Dickinson.
Joshua said: "We are looking forward to inviting our new scholars for a visit to Bristol to experience the University, look around our world-class facilities, and meet with other Engineering students. The fact that this is the second year of sponsoring students means that we are now able to create a close-knit community and look to meeting up as a larger group, and offer even more opportunities to the scholars."
Further information
Read more about the Arkwright Scholarship programme on their website: www.arkwright.org.uk