View all news
Policy and regulation stand in the way of NHS use of unlicensed eye injection drug with potential to save millions of pounds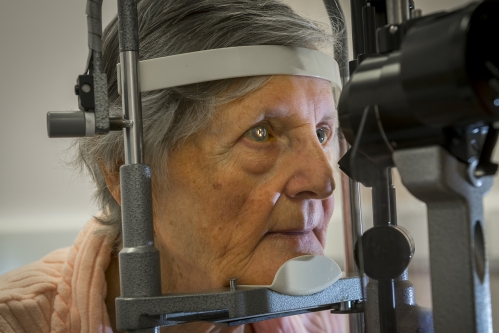 Press release issued: 1 November 2017
Eye injection drugs recommended by NICE cost the NHS up to £447 million annually, but could be replaced by an unlicensed drug, bevacizumab, costing as much as ten times less. Use of the two licensed drugs, ranibizumab and aflibercept, has increased three-fold over the last five years, with some parts of England treating five times as many patients as others.
NIHR-funded researchers at the University of Bristol investigated NHS use of ranibizumab and aflibercept in treating a range of eye conditions that lead to blindness. Their paper, published in BMJ Open, shows that the NHS is spending the equivalent of a large clinical commissioning group's (CCG) entire annual budget on these drugs alone.
A growing body of evidence indicates that bevacizumab is equally effective and safe in treating eye conditions. But CCGs and clinicians aren't allowed by law to prescribe the cheaper alternative as it's not recommended by the UK's regulatory framework, which demands that a drug must be licensed for a specific use before NICE can recommend it.
The drug company that owns ranibizumab also owns bevacizumab, which is licensed for use as a cancer treatment in the UK. While it is widely used to treat eye conditions in other countries, including the US, there is no commercial incentive for the company to seek a licence for the cheaper drug for use in eyes.
Professor Will Hollingworth from the Bristol Medical School: Population Health Sciences, who led the research, said: "In a time of huge financial pressure on the NHS, these restrictions are limiting CCGs' ability to choose a cheaper but equally effective treatment. It is unacceptable that current interpretation of the regulatory framework is standing in the way of making this cheaper alternative treatment universally available on the NHS.
"Each area in England is being asked to make massive savings. In this context, the widespread use of these more expensive drugs doesn't add up. There is a desperate need for policies around drug licensing to change, and we are calling on politicians and the Department of Health to make the necessary changes."
Paper:
'Changes in the frequency and cost of anti-vascular endothelial therapy, and inequalities in access, in England between 2005 and 2015' by William Hollingworth, Tim Jones, Barnaby C Reeves, Tunde Peto, in BMJ Open
Further information
About the National Institute for Health Research
The National Institute for Health Research (NIHR): improving the health and wealth of the nation through research.
Established by the Department of Health, the NIHR:
funds high quality research to improve health
trains and supports health researchers
provides world-class research facilities
works with the life sciences industry and charities to benefit all
involves patients and the public at every step
For further information, visit the NIHR website www.nihr.ac.uk
About the NIHR Collaboration for Leadership in Applied Health Research and Care West
The NIHR Collaboration for Leadership in Applied Health Research and Care West (NIHR CLAHRC West) works with its partner organisations, including local NHS and public health providers, to conduct applied health research and implement research evidence, to improve health and healthcare across the West. It undertakes applied health research projects, in collaboration with its partners across the region and nationally. The research it does must have a real world application and fall into one of our broad thematic areas of 'improving the management of chronic health conditions' and 'public health interventions and population health'.