View all news
Full steam ahead for Engine Shed 2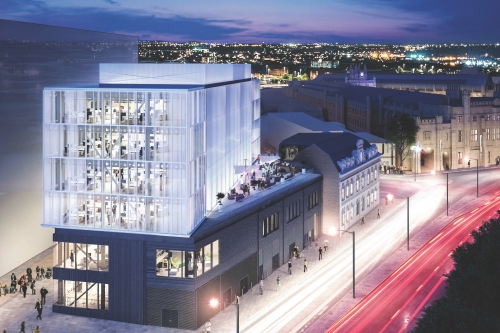 Press release issued: 9 November 2017
Bristol City Council's planning committee has unanimously approved plans for Engine Shed 2 – an expansion of the successful business incubation centre near Bristol Temple Meads train station.
Engine Shed, a collaborative project between the University of Bristol, Bristol City Council and the West of England Local Enterprise Partnership, opened in 2013 and has helped to develop scores of young start-up companies.
Its second hub will be twice the size, replacing the George and Railway pub at Temple Circus which has been derelict since the 1980s. The exterior of the building will be restored and a new six-storey extension built.
Plans for the new building, developed by Skanska, feature office space, a café, restaurant and other retail uses at the heart of the Bristol Temple Quarter Enterprise Zone.
It will further build on the success of Engine Shed, which has created over 700 jobs and delivered more than £8 million GVA to the Bristol and Bath economic region through its hosted incubators since it opened in December 2013.
Engine Shed Director Nick Sturge said: "I am thrilled the Planning Committee has seen the opportunity Engine Shed 2 presents in a second iconic Bristol heritage site. Following on from the success of Engine Shed, and our proven custodianship of a listed building, we are now able to build on our inclusive economic growth plan that serves communities in Bristol and Bath. These are indeed exciting times."
Engine Shed 2 will accelerate and increase development of long-term, sustainable and inclusive economic growth in Bristol and the surrounding economic area. At the same time, it will bring new projects into the community and generate increased operating surplus to fund its outreach projects.
The new space will also provide much needed extra accommodation for SETsquared Bristol and other sector hubs, reusing an established city building without pressing on the need for new build.
Engine Shed is a collaboration between Bristol City Council, the University of Bristol and the West of England Local Enterprise Partnership at the heart of Temple Quarter Enterprise Zone.
It houses the University's Bristol SETsquared Centre, which was named as the best university business incubator in the world in 2015 and is home to around 85 innovative ventures, providing guidance on business growth and strong links to university expertise.
As well as housing a number of tenants, Engine Shed is a popular meeting and event venue for the region's businesses and organisations.
Further information
Engine Shed currently hosts business incubation (SETsquared – the world's number one business incubator, Oracle Startup Cloud Accelerator), apprenticeship provision (Boomsatsuma), city development projects (BIO), networks and collaborations (GW4, TechSpark, BusinessWest) and has previously hosted the LEP, WebStart, JustEat, SomoGlobal, GamesBoosters, WECA, Social Enterprise Works, School for Social Entrepreneurs and others – supporting them in their journey.