View all news
University medical student awarded professional contract with Bristol Rugby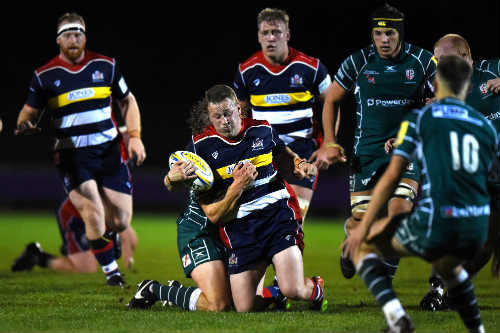 7 November 2017
Fourth year medical student balances studies and professional rugby after being awarded Bristol Rugby contract.
Fourth year undergraduate Ben Gompels, currently intercalating in Medical Humanities, debuted for Bristol Rugby on 15 October in their 31-7 British and Irish Cup victory over Cardiff Blues in Pontypridd.
Bristol born and raised, Ben played through the South West Division age groups and the Bristol Rugby Academy. On arrival at University, Ben joined the Performance Squad; receiving personalised training and dietary plans, and took on the vice-captaincy at hooker for the UBRFC Men's 1st XV.
Managing a busy schedule which includes daily training at Clifton Rugby Club's base with the senior Bristol Rugby squad, strength and conditioning sessions and game-planning meetings alongside his studies; Ben also coaches the University's Women's Rugby 1st XV and is completing the Level 2 RFU Rugby Coaching qualification.
Commenting on receiving a professional contract with Bristol Rugby Ben said:
"It's great to be involved with Bristol Rugby at senior level now, working alongside very good players with a strong motivation to succeed. I'm looking forward to helping the team with our League and Cup ambitions alongside my studies this year."
The future looks bright for Ben, with 2018 set to be a busy period as he prepares to move into his final year of medical study whilst furthering his rugby playing career.
The University enjoys a close relationship with Bristol Rugby – past alumni who have played for Championship side include World Cup-winning England international Josh Lewsey MBE, and England player Dave Attwood, now playing his club rugby at Bath.
Ben is joined at Bristol Rugby this season by fellow University medical student Dave Watchorn, who has previously captained UBRFC at flanker.