View all news
Final episode of 'Trust me, I'm a vet' from Vet School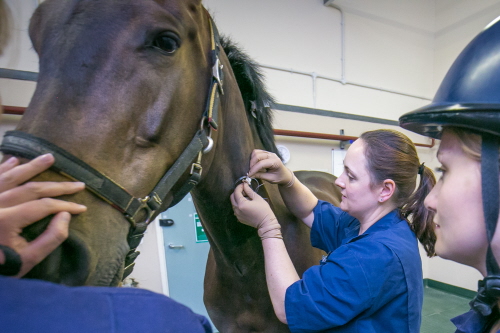 Press release issued: 17 May 2017
The University of Bristol's School of Veterinary Sciences and Langford Vets is the location for the third and final episode of the BBC Two series, 'Trust me, I'm a Vet', presented by Bristol veterinary alumnus, Steve Leonard.
The programme, which will be broadcast on BBC Two at 8 pm tonight [Wednesday 17 May], will investigate the best way for cats to de-stress, reveal why a recycling bin is a danger to dogs and reveal the warning signs dogs give out before becoming aggressive.
Tom Shaw, neurology and neurosurgery resident at Langford Vets will talk about stick injuries in dogs and Veronica Roberts, Senior Clinical Fellow in Equine Medicine in the School of Veterinary Sciences, will carry out a ground-breaking operation to save the life of a horse suffering extreme nerve pain, known as headshaking syndrome.
The final episode of Trust Me, I'm a Vet will be broadcast on Wednesday 17 May, on BBC 2 at 8pm. Previous episodes are available on BBC iPlayer.
Further information
About Langford Vets
Langford Veterinary Services Limited (trading as Langford Vets) is a customer focussed veterinary business providing an extensive range of specialist capabilities and a superior quality of care. All clinics are supported by highly specialised clinicians, diagnostic imagers, anaesthetists, nurses and support staff.
With the largest team of American and European specialists in the south west of England and as a member of the Royal College of Veterinary Surgeons (RCVS) Practice Standards Scheme, the Langford Vets team has reached the highest recognition available in all areas.
Langford Vets is proud to be a part of the University of Bristol.