View all news
Researchers explore Bristol's book scene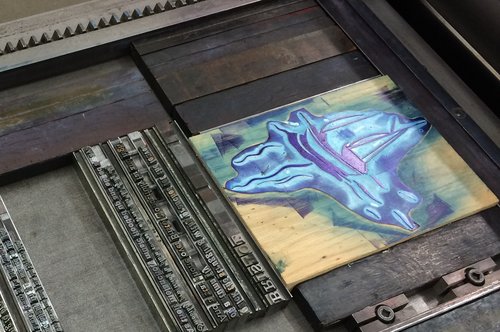 16 May 2017
What do books mean to you? How does the form of a book relate to its content? Join independent publishers, book artists and letterpress printers to explore book making in Bristol.
A group of researchers from the Faculty of Arts Books research cluster are holding a series of lunchtime talks to explore the vibrancy of book making cultures in the city and engage in conversation with publishers, artists and readers about what books mean to them.
Greet Pauwelijn from Book Island believes the city has the opportunity to make a name in publishing. "Bristol is home to so many talented authors and illustrators and, although most UK publishing is happening in and around London, this doesn't mean we can't build a successful publishing scene here."
Bristol-based artist Angie Butler will be drawing inspiration from the speakers to produce an artist's book which reflects on the process of making books in the city.
"The researchers and academic experts have a vital and rich understanding of book culture so working together is already proving very exciting and fruitful. As I research the artist's book, I hope to amass the thoughts, musings, stories and experiences of Bristol residents regarding aspects of books and reading via twitter as well as through conversations at the Making Books events."
The process of making the book will be documented at @BooksatBristol and Angie notes, "As with any creative process, highs and lows will be included!"
All 'Making Books in Bristol' events are free and open to the public.
At Bristol Central Library:
Wednesday 17 May, 1 – 2 pm – Richard Jones from Tangent Books, specialists in books by local authors on local subjects.
Wednesday 24 May, 1 – 2 pm – Greet Pauwelijn from Book Island, publishers of children's fiction, often in translation.

At The Folk House:
Friday 16 June, 1 – 2 pm – Sarah Bodman, Senior Research Fellow for Artists' Books, Centre for Fine Print Research, UWE
Friday 23 June, 1 - 2 pm – Nick and Ellen from The Letterpress Collective, who work with local authors and artists on printing projects.
Further information
The Books at Bristol research cluster, led by Rhiannon Daniels and Jennifer Batt, brings together scholars from across the Faculty of Arts and embraces a broad understanding of the material text from the ancient world to the digital age. Find out more at booksatbristol.wordpress.comor follow @BooksatBristol.