View all news
Inspired by the archive: new exhibition explores the legacy of Kevin Elyot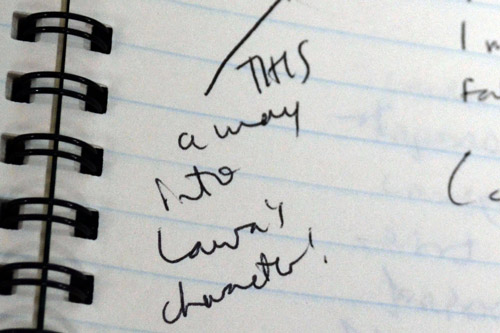 Press release issued: 23 May 2017
A new exhibition at the University of Bristol's Theatre Collection celebrates the life and achievements of acclaimed actor, writer and Bristol drama alumnus Kevin Elyot.
Opening on Thursday, May 25 'Playwright: the craft of Kevin Elyot' explores his fascination with form and structure.
Kevin Elyot was best known for writing the hit 'My Night With Reg' which transferred to the West End, and was translated into German, Spanish and Portuguese (amongst others) and produced around the world, including the US, Australia, New Zealand and Japan. It was also made into a BBC film in 1995.
Alongside writing his own work, he also undertook adaptations for television - most notably of Agatha Christie novels for Granada. He adapted a total of nine of Christie's works between 2003 and 2013, mainly 'Miss Marple' and 'Poirot'. He also adapted Christie's 'And Then There Were None' for the stage in 2005.
Following his death in 2014, Kevin's sister donated his archive to the Theatre Collection. This comprises hundreds of scripts, correspondence, manuscripts and publicity material detailing Kevin's work from initial idea to finished product from across his entire career.
The exhibition, which runs until 20 October, features key materials used for inspiration, his notebooks and work-in-progress scripts, alongside publicity materials displaying the realisation from page to production all taken from the archive.
In addition to donating the archive to the Theatre Collection, Kevin's family have enabled the creation of the Kevin Elyot Award – an annual endowment which will support a promising writer by enabling them to be resident in the Theatre Collection and begin the process of creating a new work inspired by Kevin's archive, which may be a dramatic, creative or academic piece of writing.
It comprises £3,000 to fund the residency for up to four weeks each summer, and will also offer support with research and public dissemination of the work.
The inaugural award winner, Ian McHugh, is putting the final touches to his play 'Good Morning Captain', readings from which will be premiered at a talk to mark the launch of the exhibition.
Jo Elsworth, Director of the Theatre Collection, said: "There's a real buzz about Kevin at the moment. Two of his brilliant plays, 'Coming Clean' and 'Twilight Song' are about to be staged in London and we're all really excited to get a flavour of Ian's new play which, we hope, will be staged very soon."
The University of Bristol's Theatre Collection is based at the Vandyck Building, 21 Park Row, Bristol. Check the website for opening times.
Further information
The Theatre Collection is one of the world's largest archives of British theatre history and Live Art and is an accredited museum and international research facility open to all.
Founded in 1951 to serve the first UK university drama department, our collections cover the period from 1572 to the 21st century and our visitors include everyone from international scholars to family historians.
Since 1951, the University of Bristol Theatre Collection has expanded to become a fully accredited museum and theatrical research centre. It also continues to serve its original purpose as a research resource for the members of the University of Bristol and the Bristol community.