View all news
Chemistry alum Steve Lindsey nominated for European Inventor Award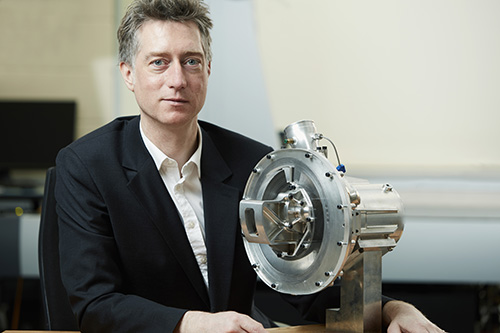 25 May 2017
Steve Lindsey, CEO of Lontra UK, is the only nominee from Great Britain.
The European Patent Office (EPO) has named Lindsey as a finalist for the European Inventor Award 2017 in the category 'Small and Medium-Sized Enterprises'. Winners will be announced at a ceremony in Venice on 15 June.
Lindsey was nominated for his new oil-free rotary air compressor. The Blade compressor uses a rotating piston or "blade" inside a circular chamber that simultaneously compresses air and induces new air into the chamber in one continuous movement.
Unlike a traditional piston compressor, which must stop and change direction, the blade rotates endlessly in one direction. This increases reliability and makes the technology smoother and quieter. It is also the first new compression technology which is inherently oil- free, with better sealing and so lower leakage.
EPO president, Benoît Battistelli said: "Steve Lindsey's invention offers a clever, highly-efficient alternative to traditional air compressors, and is poised to shake up the compression industry. Because air compressors are used across such a large number of industries, it also has the potential to make an impact on worldwide energy consumption and cut carbon footprints across many energy-intensive sectors."
Lindsey added: "I think the exciting thing about compressors is they are behind nearly every part of modern life – from the compressors that open the doors on a train or a bus, to the compressors that power the tools in factories or power the spray guns in factories to compressors in air conditioning or in the back of your fridge. And our compressor can potentially replace all of them over time."