View all news
Virtual Futures: Where is Virtual Reality taking us?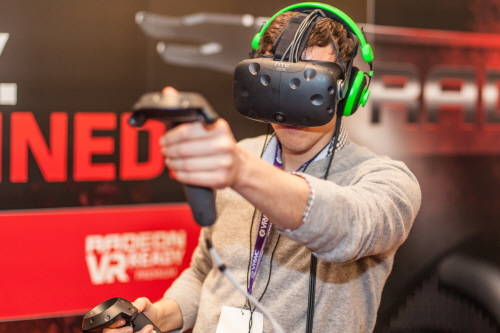 Press release issued: 20 March 2017
Virtual Reality – or VR - has long been the idea of science fiction but now it is happening and the impact on society is potentially huge. The University of Bristol and the Digital Cultures Research Centre at University of the West of England (UWE Bristol) are sponsoring a special track at this year's VR World Congress [Tuesday 11 to Thursday 13 April] to encourage debate into what this may mean for everyone.
Significant advances in key technical challenges has brought VR and the related technologies of Augmented and Mixed Reality to the fore. Commercial systems are emerging at a rapid pace and this is leading to new applications and methods of interaction and communication, which will impact on all areas of society, from entertainment to health and education.
Bristol's two universities have brought together four internationally renowned thinkers in VR to give keynote talks on these issues as part of the 'Virtual Futures' event at the VR World Congress. The speakers are: Mel Slater from the University of Barcelona; William Uricchio from MIT; Hrvoje Benko from Microsoft, and Michael Madary from the University of Mainz.
Around 2,000 delegates are expected at this year's VR World Congress. The congress is an annual event in Bristol and is organised by local games company, Opposable VR, which was set up by University of Bristol alumnus, Ben Trewhella.
Dr Andrew Calway, Reader in Computer Science in the Department of Computer Sciences at the University of Bristol and Chair of the organising committee for Virtual Futures, said: "This is a hugely exciting time for VR and there are going to be many difficult and important research questions, not only for computer scientists and engineers, but also for a wide range of other disciplines relating to how we make best use of the technology, the societal impact that it may have and the ethical issues it may raise.
"This is why we have joined with UWE Bristol's Digital Cultures Research Centre to sponsor this track at VR World Congress, to encourage and stimulate debate about a technology which is likely to have far reaching consequences in so many areas."
Mandy Rose, Associate Professor and Director of the Digital Cultures Research Centre at UWE Bristol, added: "While VR entertainment is generally associated with games, we're seeing a huge interest now within documentary and journalism, with players like the New York Times and the Guardian getting involved. Our keynote speakers bring a breadth and depth of research knowledge to thinking about the implications of the use of this immersive technology in these everyday contexts."
Ben Trewhella, CEO of Opposable VR, commented: "Although VR World Congress is primarily aimed at the VR industry and developers, we are well aware of the potential impact of this technology and we are really pleased that Bristol's two universities are pushing the debate forward through the Virtual Futures track.
"The city of Bristol is fortunate to have a large number of VR companies, both large and small, and so it is a perfect environment to have conversations around where we want the technology to go."