View all news
Eradicating child poverty in Africa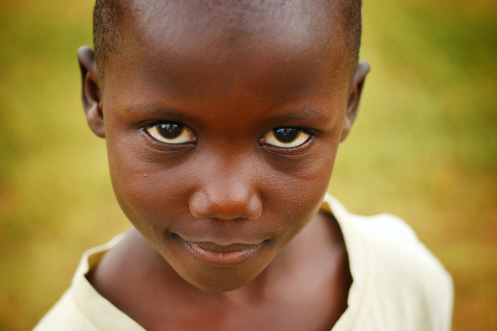 Press release issued: 30 March 2017
A team from Bristol Poverty Institute, a new specialist research institute at the University of Bristol set up to tackle global poverty, have been working with UNICEF to provide technical advice and assistance to the Ugandan Bureau of Statistics (UBoS) and the Economic Policy Research Centre (EPRC) to help integrate multidimensional child poverty measures into Ugandan National Statistics.
World governments have signed up to the UN's Sustainable Development Goals of 'ending poverty in all its forms everywhere'. Including the aim of reducing by half (by 2030) the multidimensional poverty of adults and children in every country, however, most countries have no official measure of multidimensional child poverty. The need to improve the measurement of poverty is therefore urgent as politicians and the public need reliable information to see how effectively and efficiently anti-poverty policies are working (or not working).
The Consensual Approach for measuring poverty is the only method available which can produce accurate and comparable policy relevant information in low, medium and high-income countries. It has been developed over 30 years, based on Bristol's internationally acclaimed research on poverty in the Faculty of Social Science and Law.
The method takes into consideration the opinions of the general public about what items and activities they consider to be necessary for an acceptable standard of living, from which no one should be excluded due to a lack of resources. Importantly, the approach introduces a democratic element into the definition and measurement of poverty enabling the public, rather than just academics or politicians, to determine what constitutes poverty.
Dr Eldin Fahmy, who recently returned from Uganda, said: "Over half the population of Uganda is under the age of 18 so the need to develop robust and culturally appropriate official measures of child poverty is increasingly urgent. What we're trying to do is to measure poverty not just in terms of whether people have enough food and clothes but also whether they can participate fully in the social life of their community and meet their social obligations.
"We ask members of the Ugandan public to identify what they believe are the necessities of life for children and adults in their society, using tried and tested focus group and social survey methods, which we have developed over many years of research. This produces a socially realistic measurement of poverty and something that's easy to understand for both the public and politicians."
Members of Bristol's new Specialist Research Institute on Poverty have a long history of providing scientific help and support to our colleagues in African countries. For example, the EdQual programme helped Ghanaian academics to develop evidence which persuaded their government to fund national professional development programmes for primary school leaders throughout Ghana. Our work helped head teachers to implement a range of successful initiatives: community support for school meals, remedial classes to boys who were going out to work; and a programme to reduce sexual risk and pregnancy for young girls. Simpler projects influenced parents to make sure children ate breakfast and came to school with pen and exercise books. Access to education and literacy, especially for girls, is often used as a measure of poverty. Education enables improvements in life chances for girls. Improving this access is one way the EdQual programme helped to reduce multidimensional poverty in Ghana.
Professor David Gordon, Director of the Bristol Poverty Specialist Research Institute, said: "The University of Bristol is proud to be in partnership with the Universities of Ghana, Nairobi and Cape Town through the World Wide Universities network, we will work with our academic colleagues, UNICEF and other international organisations to reduce and eventually eliminate poverty during the 21st Century. Providing policy makers and the public with high quality scientific information about the extent and nature of child poverty is a necessary step towards ending the blight of poverty".
"Many African countries have long and proud academic traditions, for example 500-years ago the University of Sankore, Timbuku had 25,000 students from all over Africa and the Middle East – we still have much we can learn from each other."
Further information
The Bristol Poverty Specialist Research Institute is dedicated to multi-disciplinary research on poverty in both the industrialised and developing world. The Institute has been established by the University of Bristol in response to the United Nations call for Universities to play their part in helping to deliver the Sustainable Development Goals.