View all news
Speedy science students shortlisted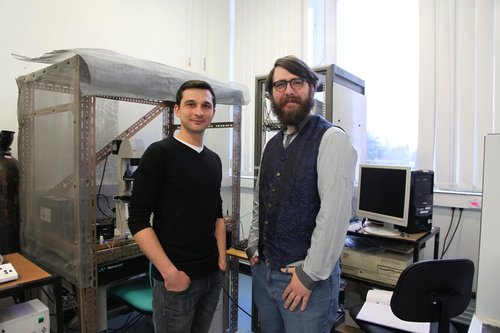 27 March 2017
A film produced by PhD students from the University of Bristol has been shortlisted for the BBC Focus Prize at this year's Bristol Science Film Festival.
Inspired by Baz Luhrmann, Bartholomew Harvey and Sam Bose produced 'Everybody's Free (To Cure Cystic Fibrosis)' in just two days. The film explores the long term goals of cystic fibrosis (CF) research, enhancements in the understanding of the condition, hopes for the future and the huge potential of gene therapies.
Both students work with Professor David Sheppard; Bartholomew to investigate the CF genetic mutation F508del, and Sam to identify how drugs that treat CF interact with the cystic fibrosis transmembrane conductance regulator (CFTR) protein.
Bartholomew said: "After experiencing the effects of an incurable disease myself I decided I wanted to help people going through the same thing. Professor Sheppard was one of the lecturers during my undergraduate degree at the University of Bristol and I became interested in CF through his lectures. When the opportunity arose to study an incurable disease and be Professor Sheppard's PhD student, I jumped at the chance."
Professor Sheppard also inspired Sam's interest in CF research. He said: "As an undergraduate I developed an interest in ion channels and electrophysiology. There is a real feeling in the CF research community that the next big breakthrough is just around the corner and it is a really exciting time to be working in the field."
After producing the film in a short amount of time, Bartholomew and Sam were shortlisted for the prize and hope that the video will reach a wide audience to promote the work being done in CF research.