View all news
University of Bristol in top 20 of the Times and Sunday Times Good University Guide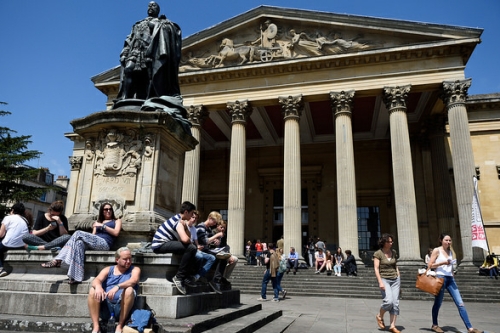 26 September 2016
The University of Bristol has been ranked 19th in the Times and Sunday Times Good University Guide 2017 - a rise of one place on last year.
The league table is a well-respected and trusted source of annual information on the rankings of UK Universities. It looks at nine indicators including teaching, research quality, student satisfaction, entry standards and graduate prospects.
Bristol was ranked in the top 10 UK universities for research quality, completion rates and firsts and 2:1s.
The Times and Sunday Times Good University Guide also revealed that 18 of our subjects are rated in the top five in their disciplines, with seven subjects in the top five.
Subjects ranked in the top five are: Aeronautical & Manufacturing Engineering; Electrical and Electronic Engineering; Mechanical Engineering; Music; Russian and Eastern European Languages; Sociology; and Pharmacology & Pharmacy.
The 18 subjects which are ranked in the top 10 for their discipline are:
Aeronautical & Manufacturing Engineering
Anatomy and Physiology
Economics
Electrical and Electronic Engineering
General Engineering
Geography and Environmental Science
Geology
Law
Mechanical Engineering
Music
Russian and Eastern European Languages
Social Policy
Sociology
Theology and Religious Studies
Pharmacology and Pharmacy