View all news
Students go head-to-head with Paxman in new season of University Challenge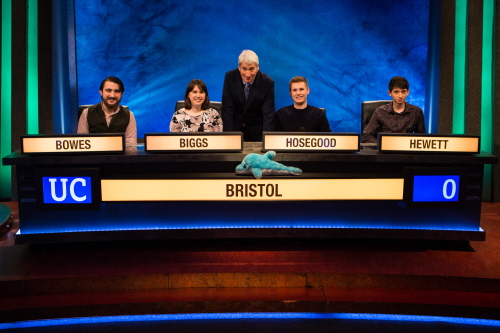 Press release issued: 24 July 2017
The University of Bristol's quiz team return to screens tonight with University Challenge, in a battle of wits against Trinity College, Cambridge.
Hopes are high for the team whose winning streak took them all the way to last season's quarter finals.
Viewers can see if their success continues as they gear up to face Jeremy Paxman tonight at 8pm on BBC2.
The team has already fought off fierce competition from the country's brainiest students to reach this stage, with over 130 student quiz teams auditioning for a coveted place on the show's 47th series.
After a gruelling interview and tough test papers, the Bristol team were named as one of the successful 28 teams who would face the sharp tongue of presenter Jeremy Paxman.
Prior to the televised challenge, all applicants were put to the test by the University of Bristol Students' Union (Bristol SU), competing in three rounds of mentally gruelling tests.
The final five Bristol teammates, chosen from well over 200 Bristol students who applied, are:
Sam Hosegood (Team Captain), first year undergraduate, Chemical Physics
Oliver Bowes, First year undergraduate, Music
Kirsti Biggs, Second year doctoral candidate, Mathematics
Dom Hewett, First year postgraduate, English
Owen Iredale, Second year undergraduate, Biology (reserve)
Team captain Sam Hosegood said: "It's difficult to explain how nerve-racking it is when you're sitting on set with all the lights and cameras on you waiting for the first question to be read. However, despite how stressful the filming can be at times, the whole experience was really good fun.
"Personally, I think that one of the greatest strengths of our team was that we got on so well meaning that meeting up to practice was never a chore. We all looked forward to our weekly practice sessions and now that the filming is over we still regularly go to the pub together (and of course the occasional pub quiz!)."
University Challenge is the longest-running academic quiz show in the UK. It was first aired in 1962.