View all news
Famed actor Timothy West receives honorary degree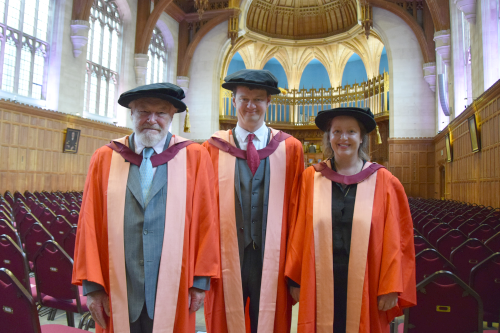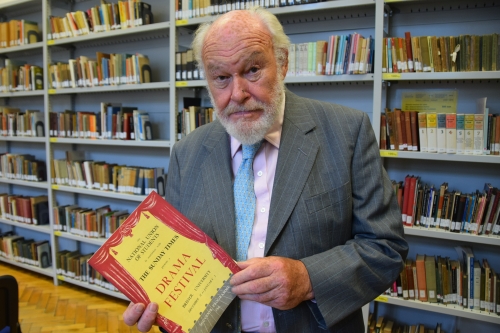 Press release issued: 21 July 2017
Timothy West, widely regarded as the godfather of British drama, has been presented with an honorary degree by the University of Bristol on Friday [21 July], in recognition of his contribution to the world of acting.
The 82-year-old, who is married to actress Prunella Scales, has played more than 250 characters on stage and screen and is one of the country's most versatile, talented and respected actors.
Cutting a grand and imposing Wellesian figure, his acclaimed work has included the portrayal of a number of classical characters and notable historical figures.
He's played Winston Churchill, the University's former Chancellor, three times and received his honorary degree in the same hall in which the former Prime Minister presided over so many ceremonies.
The famed actor, who grew up in Bristol, has a long-standing relationship with the Bristol Old Vic dating back 50 years. He served on its board during the late 80s and 90s and most-recently performed as King Lear to help mark the theatre's 250th anniversary.
Tom Morris, Artistic Director of the Bristol Old Vic, and Emma Stenning, its Chief Executive, also received honorary degrees from the University on Friday.
Timothy grew up in Bristol and went to Bristol Grammar School, where his active imagination meant he got a little bored and 'didn't see eye-to-eye with the headteacher', thus ultimately getting expelled.
He said: "I thought there were better ways to carry on my education so I just stopped going. Instead, I would jump onto my bicycle, peddle up to Leigh Woods or down to the docks and imagine myself as the famous people who passed through Bristol. I was Cabot and Brunel, off having adventures."
Timothy and his family moved away from Bristol when the war ended, relocating to London to help further his father's career in radio broadcasting.
It was during the first ever National Student Drama awards, set up by the Sunday Times and held in the Victoria Rooms, that Timothy decided to pursue acting as a career.
He explained: "When I was a student, I came back to Bristol to take part in the first ever National Student Drama award set up by the Sunday Times and held in the Victoria Rooms. After the performance, I went to the loo and standing beside me was the famous judge and theatre critic Harold Hobson. He asked if I'd thought of doing it professionally. I paused for about five seconds and then went, 'Yes! Yes.' That's really the moment I made my decision to go into acting."
Since then, Timothy's gone on to perform in 296 theatre, film and TV productions over the past 61 years.
He has acted and directed in theatres across the length and breadth of the country, as well as overseas, and for theatre companies including English Stage Company, the National Theatre and the Royal Shakespeare Company.
Not only he is a classical actor, his film and television appearances range from Emergency Ward Ten in 1959, to EastEnders in 2014 and the landmark 2005 BBC production of Bleak House.
Although Tim moved away from Bristol when he was 12, he still returns to the city and said: "Bristol has been a huge part of my life. I've been back time and time again to do plays at the Bristol Old Vic and to see close friends – some of which I made when I was five years old. It's an exciting place which has evolved hugely since I lived here as a child. There's something about Bristol; it's somewhere which stays in your memory for a long time."
In addition to the Bristol Old Vic, Tim has links with the University of Bristol's Theatre Collection, which holds photographs and artefacts from both his and his father's acting careers.
He was also a Trustee of the Mander & Mitchenson Collection, one of the three largest theatre history archives in the country, which is now part of the Theatre Collection. Together, they form the second largest archive of British theatre history in the world.
Jo Elsworth, Director of the Theatre Collection, said: "Tim has played an important role in supporting the city's theatrical life for over half a century. In addition to his support of the Bristol Old Vic, he was a Trustee of the renowned Mander & Mitchenson Collection and supported its transfer to the University of Bristol, which, in turn, transformed our own Theatre Collection into a world class resource for students and researchers.
"Tim is a mesmerising actor, who uses his exceptional technical precision combined with a seemingly effortless emotional presence to make you feel that you are not just watching him, but that you are going on journey with him.
"Tim and Prunella's commitment to their family, as well as to each other, and to theatre, is quite remarkable and deeply inspiring."