View all news
Teens get a taste of life as a Bristol student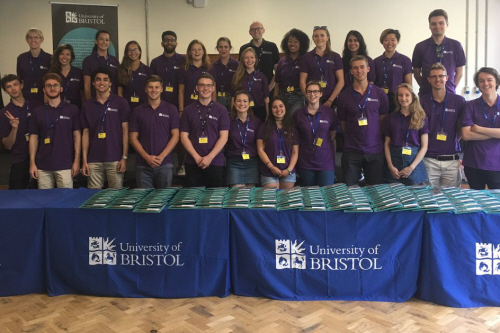 Press release issued: 10 July 2017
A-level students from across the UK are in Bristol this week, experiencing what it might be like to live and study as a University of Bristol student.
Over 1,100 year 12 pupils applied for the 160 places available on the week-long summer school. Run by the University of Bristol in partnership with the Sutton Trust, the scheme aims to inspire bright young adults from groups currently under-represented in higher education to continue their studies at university.
The students will live in halls of residence, attend lectures from world-leading academics and receive key mentoring and guidance sessions on the practical aspects of securing a university place; from UCAS applications and student finance to writing a personal statement.
In the evenings, the students will be immersed into city life, with trips to Cabot Circus, karaoke, tours of the city and a big celebration dinner at the City Museum and Art Gallery.
The scheme has a varied subject offering including: Biomedical Sciences, Chemistry, Engineering, EFiM, Historical Studies, Law, Literature Studies, Maths, Medicine, Physics, and Social and Political Sciences.
The Sutton Trust Summer School is a key initiative in the University of Bristol's commitment to diversification and widening participation and the university has committed to guarantee summer school students who meet the criteria a place on their chosen university course. Or, where interviews form part of the application process, a guaranteed interview for their chosen course.
Doug Jennings, UK Student Recruitment Manager, said: "This is a rare opportunity to give year 12 students a real taste of what university might be like. The week is fun and inspiring, but crucially balanced with invaluable mentoring and practical advice on how to make the step into university life a reality."
After the summer school, continued support will be offered to the young people with advice, guidance and updates on any further opportunities open to them with the University of Bristol.