View all news
Tough Rob proves disability is no barrier as he becomes a first-class graduate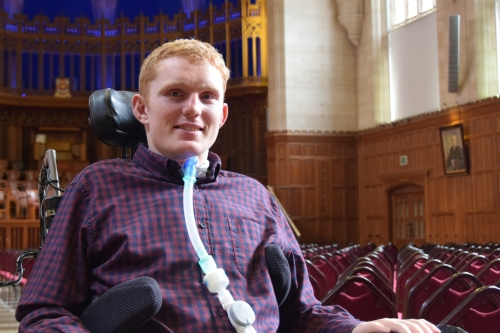 Press release issued: 13 July 2017
Student Rob Camm, who was left paralysed from the neck down following a car crash, has defied the odds once again to graduate with a First Class Honours degree.
The 23-year-old passed his BSc Politics and Philosophy degree at the University of Bristol with flying colours and now has ambitions to become a lawyer.
Rob is no stranger to tackling tough challenges, having become the first tetraplegic in the world to conquer a Tough Mudder in August 2015, using a special wheelchair which he controlled with his chin.
He said: "Before the accident, I had always been the type of person who wanted to be the best they can be. Getting a first has made me feel that way again.
"I couldn't believe it when I saw my result. I had to keep refreshing the student information page to be sure.
"It was a lot of work, just as it is for all students. There have been times when I've struggled but my friends, family and carers have really pulled me through when I've felt down. Not many people get a First so I'm very proud of managing to do that."
Rob, a keen rugby player who had just returned from a year abroad, was a passenger in a car that crashed in September 2013, just a week before he was due to start studying at York University.
Determined to live his life to the full, he decided to continue his studies closer to home at the University of Bristol while living with his family in Breadstone, Gloucestershire.
Special technology has helped make his educational achievements possible, with voice recognition software allowing him to write essays, while a system called SmartNav enables him to move a mouse pointer around the screen using head movements.
The library ensured any books or research papers were scanned in to allow Rob to read them on a computer and any lectures or seminars he missed were recorded for him to watch at home.
This technology was even more crucial when Rob was confined to his bed for four months in his second year due to pressure sores, which required total bed rest in order to heal.
Although Rob's not been able to live life as a typical student, he joined the Law Club and has been on several work experience placements, most recently at law firm Osborne Clarke.
Rob said: "University has been part of trying to get my life restarted, learning what I can and cannot do. It's been good to get out of the house and have a purpose.
"Meeting people and socialising has been hard, but many things are possible with some planning. The disability services team has been fantastic at helping me and my tutors have been really good too.
"Being a student at Bristol has been great. I've especially enjoyed being taught by leaders in their field; it's really inspiring to listen to them talk about subjects they're passionate about."
Rob's now got his own flat in the city centre so is able to split his time between Bristol and Breadstone, where he enjoys going out into the countryside in his off-road electric wheelchair which can reach speeds of 10km per hour.
Not only does Rob plan to take part in Tough Mudder again this year, he will also be studying for a Law conversion course at the University of Law.
Dr Columba Peoples, Rob's personal tutor during his time at the University of Bristol, said: "Although Rob's had additional barriers to overcome, in many ways I'm not surprised he's graduating with First Class Honours – he's always been very determined and has really embraced the course.
"He's got better and better throughout the three years; he's worked incredibly hard, has shown real enthusiasm and has great intellectual ability. We're incredibly proud of him."