View all news
New report calls on universities to be more ambitious when reaching out to adult learners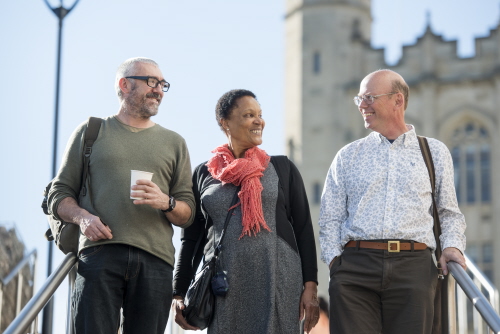 Press release issued: 4 July 2017
Pioneering work done by the University of Bristol to entice adult learners from disadvantaged backgrounds into higher education has fed into a new report looking at better ways to widen access and participation from under-represented groups.
The report, commissioned by the Office for Fair Access (OFFA) and led by The Open University, calls on university leaders to be more creative and try innovative initiatives.
It includes five case studies from participating universities – the OU, Bristol, Birkbeck, the University of London, and the University of Leeds - all illustrating different working approaches, appealing to adult and part-time students.
The report stresses that 'one-size does not fit all', and argues that universities must set ideas in their own context and develop them to suit their own adult learners' needs.
The case study offered by the University of Bristol focused on the Foundation Year in Arts and Humanities, a preparatory year aimed at those without conventional qualifications.
Each year the University also offers taster courses for the Foundation Year that are developed collaboratively with organisations including the Single Parent Action Network (SPAN), Bristol Refugee Rights and IDEAL Community Action.
As a result of this work, students recruited to this programme have been from an exceptionally wide range of backgrounds, aged 18 to 71, and 90 per cent of students have not completed A-Levels prior to taking the course.
To date, 74 students have progressed from the Foundation Year on to a degree and, later this month, the first cohort of students to complete the course are on track to graduate from their degrees.
Marta Ford, 49, embarked on the Foundation Year in Arts and Humanities before completing a BA(Hons) Liberal Arts degree, from which she graduates later this month.
She said: "I had always thought that the chance to study at university had passed me by. After leaving school, working for many years, and raising a family, higher education seemed completely out of my grasp. The Foundation Year gave me the skills, and more importantly the confidence, to study for a degree. I'm delighted to be graduating this year.
"It really has been life changing. The Liberal Arts degree was tough, but I have learned so much and pushed myself further than I thought possible."
Tom Sperlinger, the course director for the Foundation Year in Arts and Humanities, said: "There is an urgent need to put adult learners at the heart of the national strategy to widen participation.
"These students are often from among the most disadvantaged groups in society, and their voices have not always been heard. This report shows how much they have to contribute, and why it matters to the sector that we reach more of them."
Bristol's case studies, along with the others, were produced to give the whole sector real examples of the kind of intervention activities and curricula design that succeed with adult learners who require flexible support to engage with HE study.
A three-step 'toolkit' has also been produced to enable institutions to evaluate their efforts and approach to encourage disadvantaged adult learners.
The project's key recommendations to the sector are:
Be as ambitious as possible
Build confidence with small steps and/or tasters
Commit a budgetary amount for spending on attracting adult learners
Offer clear pathways
Improve information and guidance directed at adult learners
The efforts to reach out to prospective adult students, many of whom will be part-time due to existing personal commitments has become all the more pressing with the 61 per cent decline in numbers of part-time student in HE since 2010.
Professor Les Ebdon, Director of Fair Access to Higher Education, said: "Not only do the skills and experience adult learners bring to their studies contribute greatly to a more diverse student body, but there is a clear societal and economic benefit to people succeeding in higher education – whatever stage of their life they come to it.
"Age should never be a barrier to learning new skills or improving your career prospects, and I am sure these case studies will help stimulate thinking and encourage all universities and colleges to consider how best to reach out to adult learners."
Further information
About the Foundation Year in Arts and Humanities
The Foundation Year in Arts and Humanities has been running at the University of Bristol since 2013 and each year recruits 30 students who wish to progress to a degree but may not have followed a conventional route into higher education.
The programme introduces a wide range of subjects as well as tailored study skills. Students on the programme range in age from 18 to over 70 and are from an exceptionally wide range of educational, social and ethnic backgrounds. The majority live in the Bristol area, and over 90 per cent did not have A-Levels when starting the course. So far, 74 students have progressed to a degree.