View all news
Bristol engineer who inspired a female student to study engineering graduate together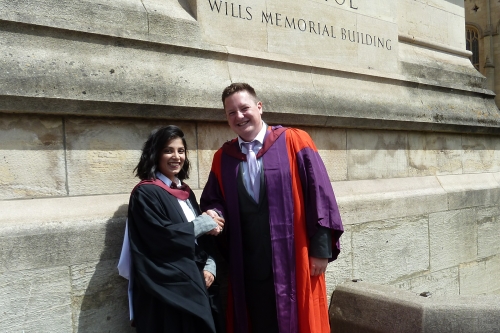 Press release issued: 17 July 2017
A University of Bristol engineer who inspired a Year 7 secondary school student to study engineering will both graduate together at a degree ceremony today [Monday 17 July].
Steve Bullock will be awarded with his PhD in Aerospace Dynamics and Control in the same graduation ceremony as Uswah Rana, who will be receiving her MEng in Aerospace Engineering. They will both receive their degrees during the afternoon ceremony at 1.30 pm.
Steve was in the first year of Teach First's Leadership Development Programme and taught science to Uswah when she started secondary school in Year 7 at the age of 11. Uswah credits Steve with her interest in engineering. He later returned to the University to undertake his PhD.
Steve Bullock, now a Teaching Fellow in the Department of Aerospace Engineering at the University of Bristol, said: "Uswah was a lovely Year 7 pupil in quite a challenging school. She came up to me after a first-year lecture I gave at the University a couple of years ago and said 'remember me?' It's been great seeing her come out of her shell at Bristol and that we will both be graduating at the same degree ceremony."