View all news
Research takes on radical rethink of UK digital infrastructure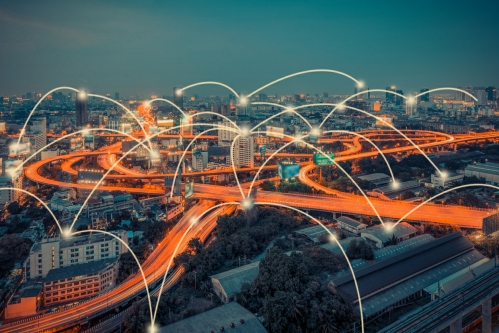 Press release issued: 14 July 2017
Researchers including a team from the University of Bristol are working with business to revolutionise the infrastructure of the internet in the UK, creating an agile, resilient network capable of meeting future needs of our rapidly changing society.
Imminent developments such as self-driving vehicles, 5G and virtual reality will require a radical shift in the way our networks perform and how they are maintained.
An ambitious £5 million research-business partnership led by BT, aims to create the next generation of converged digital infrastructure (NG-CDI) by developing the technologies and methods required for super-resilient, data-driven networks of the future.
Jointly funded by BT and the Engineering and Physical Sciences Research Council (EPSRC), the partnership brings together experts from business and academia, with specialist knowledge ranging from networking, communications, statistics and AI to industrial automation and organisational behaviour.
The team led by Lancaster University includes Universities of Bristol, Cambridge and Surrey - aims to develop a future network that is "autonomic", with the capability to react and even predict changes in networking demand, reconfiguring infrastructure accordingly with minimal human intervention. This will lead to new services, improved customer experiences in terms of network reliability, and greater agility for businesses which need digital services that can adapt as they grow.
The partnership builds on long-term research collaborations between BT and each of the consortium's members.
The project is part of a new set of Prosperity Partnerships, which will receive £31 million of government funding from the EPSRC and the Industrial Strategy Challenge Fund (ISCF) - this will be matched by a further £36 million from partner organisations in cash or in-kind contributions, plus £11 million from universities' funds, totalling £78 million in all.
Jonathan Legh-Smith, Head of Partnerships & Strategic Research BT Technology, Service and Operations, said: "Strong collaboration between business and academia is essential to delivering impact from the country's world-class research. The NG-CDI Prosperity programme builds on our long-standing partnerships with Lancaster, Bristol, Cambridge and Surrey, bringing together their expertise to address the strategic opportunities facing the UK's digital infrastructure. "
Dr Robert Piechocki, UoB's PI, said "NG-CDI consortium will undertake ground-breaking research laying foundations for future wireless and wired (converged) networks. Many future data hungry services such as Connected and Automated Vehicles (CAV), IoT and 5G will demand ubiquitous and dependable connectivity. Such converged networks will be expected to seamlessly re-tune the operations, and even self-heal. We are very excited to take up the challenge and work alongside BT and our academic collaborators from Lancaster, Cambridge and Surrey".
Professor Andrew Nix, Dean of the Faculty of Engineering and Head of the Communication Systems & Networks Group said: "The University of Bristol enjoys a close relationship with BT and together we are pushing the boundaries of international 5G research. This EPSRC prosperity partnership programme enables us to strengthen our links with BT, grow our world leading portfolio of 5G research and cement valuable academic ties with the Universities of Lancaster, Cambridge and Surrey.
Dr Nick Race, NG-CDI's consortium lead (Lancaster University), said: "Next Generation Converged Digital Infrastructure is an ambitious, multi-disciplinary programme of research that aims to develop a transformational approach to managing the next generation of digital infrastructure for the UK. We are very pleased to form this unique partnership with BT, pioneering the way in which data science is harnessed with the latest research in networking."
Professor Philip Nelson, Chief Executive of the Engineering and Physical Sciences Research Council said: "These new Prosperity Partnership investments will provide the right conditions in which new technologies and products can be developed more quickly. In turn, this will return social and economic benefits and ensure the UK continues to be one of the best places in the world to research, innovate and grow business."
Bristol academics involved in NG-CDI include: Dr Robert Piechocki, Professor Andrew Nix, Professor Mark Beach, Professor Trevor Martin and Dr Raul Santos-Rodriguez
Further information
About BT
BT's purpose is to use the power of communications to make a better world. It is one of the world's leading providers of communications services and solutions, serving customers in 180 countries. Its principal activities include the provision of networked IT services globally; local, national and international telecommunications services to its customers for use at home, at work and on the move; broadband, TV and internet products and services; and converged fixed-mobile products and services. BT consists of six customer-facing lines of business: Consumer, EE, Business and Public Sector, Global Services, Wholesale and Ventures, and Openreach.
For the year ended 31 March 2017, BT Group's reported revenue was £24,062m with reported profit before taxation of £2,354m.
British Telecommunications plc (BT) is a wholly-owned subsidiary of BT Group plc and encompasses virtually all businesses and assets of the BT Group. BT Group plc is listed on stock exchanges in London and New York.
For more information, visit www.btplc.com