View all news
Bristol researcher wins prestigious diabetes research award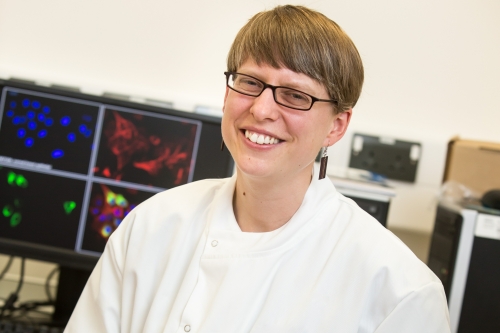 Press release issued: 26 July 2017
A University of Bristol researcher whose own family has been affected by diabetes has just been awarded £587,237 from leading charity Diabetes UK to find out why people with Type 2 diabetes are more likely to develop some cancers.
Dr Emma Vincent has been awarded Diabetes UK's R D Lawrence Fellowship, set up in recognition of the life and work of the late Dr R D Lawrence, co-founder of Diabetes UK.
Dr Vincent worked in diabetes research as part of her PhD, but it was only when a close family member had to have part of a foot amputated as a result of the condition that she realised the full importance of diabetes research.
The focus for her Diabetes UK-funded work will be to investigate changes which happen inside the body when someone has Type 2 diabetes that may encourage certain cancers, such as pancreatic, liver and endometrial cancers, to develop. Dr Vincent hopes that by understanding these processes, we will be able to find ways to protect people with Type 2 from developing these cancers in the future.
Dr Emma Vincent said: "I am extremely honoured to receive the RD Lawrence Fellowship from Diabetes UK. Diabetes affects so many - people living with the condition and those who are close to them. We need to find new ways to prevent and treat not only the condition itself but the health complications arising from it. Progress on these fronts has the potential to improve many people's lives."
When not at work in the University's School of Clinical Sciences, Dr Vincent enjoys cycling and running. She is planning to run the Lisbon Marathon in October in aid of Diabetes UK.
Dr Elizabeth Robertson, Director of Research at Diabetes UK, said: "This Fellowship highlights our commitment to investing in the future leaders of diabetes research. Dr Vincent's research is key to understanding what changes happen in the body when Type 2 develops, that may encourage certain types of cancers to grow. Knowing those changes, we can find ways to prevent cancers in people with Type 2 diabetes.
"By funding critical research like this, we're improving lives of people with diabetes and aiming for a world where diabetes can do no harm."
Diabetes UK is the leading charitable funder of diabetes research in the UK, investing around £7 million every year. The Diabetes UK RD Lawrence Fellowship allows outstanding early career researchers to establish themselves as independent diabetes researchers.
For more information about diabetes research, visit www.diabetes.org.uk/research.
To sponsor Dr Emma Vincent in the Lisbon Marathon, go to www.justgiving.com/fundraising/emma-vincent12.
Further information
About Diabetes UK
1. Diabetes UK's aim is creating a world where diabetes can do no harm. Diabetes is the most devastating and fastest growing health crisis of our time, affecting more people than any other serious health condition in the UK - more than dementia and cancer combined. There is currently no known cure for any type of diabetes. With the right treatment, knowledge and support people living with diabetes can lead a long, full and healthy life. For more information about diabetes and the charity's work, visit www.diabetes.org.uk
2. Diabetes is a condition where there is too much glucose in the blood because the body cannot use it properly. If not managed well, both Type 1 and Type 2 diabetes can lead to devastating complications. Diabetes is one of the leading causes of preventable sight loss in people of working age in the UK and is a major cause of lower limb amputation, kidney failure and stroke.
3. People with Type 1 diabetes cannot produce insulin. About 10 per cent of people with diabetes have Type 1. No one knows exactly what causes it, but it's not to do with being overweight and it isn't currently preventable. It usually affects children or young adults, starting suddenly and getting worse quickly. Type 1 diabetes is treated by daily insulin doses – taken either by injections or via an insulin pump. It is also recommended to follow a healthy diet and take regular physical activity.
4. People with Type 2 diabetes don't produce enough insulin or the insulin they produce doesn't work properly (known as insulin resistance). 85 to 90 per cent of people with diabetes have Type 2. They might get Type 2 diabetes because of their family history, age and ethnic background puts them at increased risk. They are also more likely to get Type 2 diabetes if they are overweight. It starts gradually, usually later in life, and it can be years before they realise they have it. Type 2 diabetes is treated with a healthy diet and increased physical activity. In addition, tablets and/or insulin can be required.