View all news
Come and fire your passion for all things STEM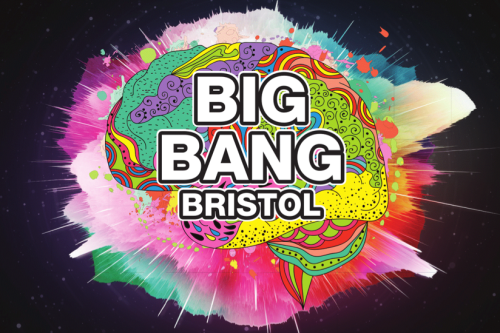 Press release issued: 5 July 2017
The latest cutting-edge research will be on display at Big Bang Bristol, a free two-day science, technology, engineering and maths (STEM) extravaganza at the Trinity Arts Centre, Bristol, on Thursday 6 and Friday 7 July.
Split into two zones there will be demonstrations and hands-on activities. In the Research Zone, scientists from the University of Bristol and other local universities will show what it's like to be a researcher and visitors will have the chance to do real experiments. There will also be an Enterprise Zone where local companies will demonstrate about the STEM that goes on in their company.
Big Bang Bristol, organised by the University of Bristol and hosted by the British Science Association, is designed to fire imaginations, and encourage students from all backgrounds to continue their interest in STEM subjects through further/higher education and into successful STEM careers.
The Research Zone will host PhD students and researchers from the Universities of Bristol, Bath, and UWE Bristol. Visitors will be able to learn about the world-class research taking place in the region, find out about life as a postgraduate and how to become a professor. Hands-on activities include making placenta models and looking at fluorescent cancer cells under microscopes.
The Enterprise Zone will host a diverse range of companies from Bristol and the surrounding areas, as well as universities. People will have the opportunity to find out about how STEM subjects are used in companies, and routes into STEM careers.
Matthew Lee, Research Laboratory Technician in Biomedical Sciences at the University of Bristol and organiser of Big Bang Bristol, said: "One of the main issues in science is the lack of diversity. Big Bang Bristol aims to engage under-represented groups and the opportunities available to them in science. We have worked with a really wide range of people to deliver the fair, and have some exciting interactive stands.
"I'm very keen on the mix of science and art to communicate ideas and research and show that science is as creative and imaginative as you want it to be. There will be a lot of science art pieces for visitors to get involved with at the fair, which will give people something to think about when they go home."
Philippa Matthews, Inclusion and Diversity Executive at the Royal Society of Chemistry, explained: "The success of our community depends on our ability to nurture the talent of the best people, regardless of who they are or their background. We believe that for chemistry and the chemical sciences to prosper, the discipline must attract, develop and retain a diverse community of talented people.
"To help achieve this we offer grants to support activities that promote and improve the accessibility, inclusivity and diversity of the chemical science community, such as the Big Bang Bristol."
Dr Bronwen Burton, Senior Teachning Associate in the School of Cellular and Molecular Medicine at the University of Bristol, added: "We look forward to sharing our excitement about biomedical science with the next generation of researchers."
In addition to sessions for local schools there will be a FREE session for members of the public tomorrow [Thursday 6 July] from 3 to 7 pm. Admission to the event is free, and no ticket is required. The event can be followed on Facebook.