View all news
Shaun the Sheep takes centre stage as Bristol forges collaboration with Guangzhou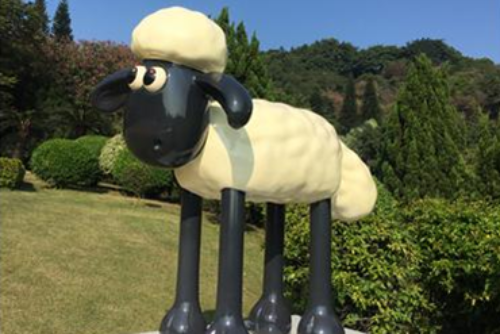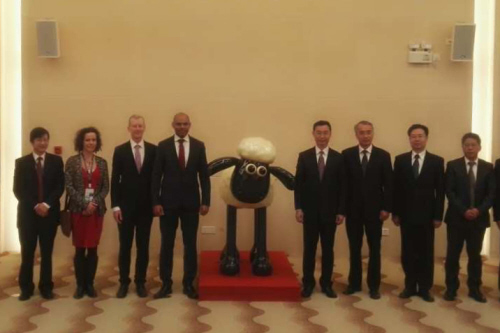 Press release issued: 5 January 2017
Aardman Animations' much-loved Shaun the Sheep character has a new home in China, marking the 15th anniversary of Bristol's sister city relationship with Guangzhou in southern China.
The statue was presented to the city as a gift from the University of Bristol during a recent visit, and now resides in the Guangzhou Friendship Garden.
It follows the unveiling of a Kapok flower sculpture at the University's Botanic Garden in September, which was a gift from Guangzhou to Bristol.
During the visit, Dr Erik Lithander, Pro Vice-Chancellor at the University of Bristol, secured a commitment to work with one of China's top universities, Sun Yatsen, on a student exchange programme, opening up opportunities for Bristol's young people.
Dr Lithander said: "The University of Bristol shares the City's ambition to develop focused, meaningful and long-lasting links in China.
"The partnership with Guangzhou offers a terrific platform on which to build on some of the activity areas that the University already has an interest in, such as staff and student exchanges, research collaboration and joint academic programme development.
"Through this visit we have been able to further understand the opportunities that are available to us in China as a University and as a City. I look forward to working with our City partners to ensure that students, staff and the broader University community can benefit from these exciting developments."
Bristol and Guangzhou have been sister cities since 2001 – bringing together governments, universities, businesses and citizens to partner on policy, trade, research and education with an emphasis on sustainable urbanisation and environmental issues.
A bilateral agreement was first signed in 2013, facilitated by the Bristol & West of England China Bureau. It brings together governments, universities, businesses and citizens to partner on policy, trade, research and education with an emphasis on sustainable urbanisation and environmental issues.
The Mayor of Bristol Marvin Rees has pledged to build on the city's successful collaboration for another two years, focusing on a series of projects designed to promote equality and sustainability in the cities.
The announcement was made at an international urban innovation conference to share Bristol's expertise. Mayor Rees met with Wen Guohui, Mayor of Guangzhou, to reaffirm a shared commitment to developing their sister city status into the future.
Mayor Rees said: "This agreement allows us to expand on our existing achievements and identify new projects which will benefit our two cities. Our shared focus on sustainable and resilient development is central to our plans to tackle climate change and the damaging impact of air pollution. We want our cities to be healthier places to live and work.
"I'm also using this visit to highlight Bristol's status as a city that is open for business and welcoming of new people, skills, ideas and investment. This week we are paving the way for a future trade investment delegation, working with local partners such as Business West and our neighbouring authorities in the West of England."
Since 2013, collaboration between the two sister cities has supported extensive knowledge exchange and project work. Key achievements to date include:
Establishing a Guangzhou office for the University of the West of England to develop education links
Developing research and student exchange links between one of China's top universities and the University of Bristol
Sharing ideas on innovative ways of solving common urban challenges, including improving health and air quality, and developing the smart energy offer and developing city leadership to better integrate government, business and universities.
The city council is working alongside Bristol's Chamber of Commerce, Inward and Investment Agency and the UK's Department of Trade and Industry to ensure Bristol continues to make the most of its collaboration with China.
Bristol has expertise in many sectors of interest to Guangdong, including financial and professional services, technology, marine energy, high-tech manufacturing, energy and sustainability, consumer services, and food and drink.
Businesses from both Bristol and Guangdong are increasingly reliant on innovation, technology and a high-skilled labour force for growth.