View all news
Pop-up shop celebrates suffrage centenary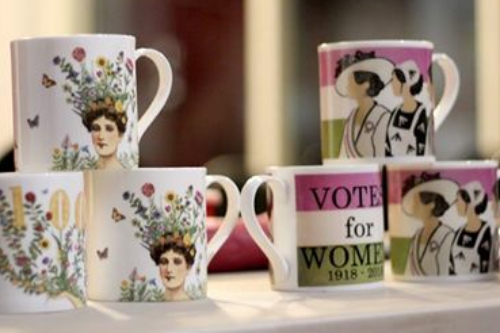 Press release issued: 11 December 2017
A special Christmas pop-up shop, featuring artwork and gifts made by local women, is being held in Bristol this week to celebrate 100 years of women's suffrage.
Shoppers are invited along to the University of Bristol's Beacon House, on the Triangle, from Tuesday 12 December to Sunday 17 December to peruse the selection of prints, crochet, ceramics, jewellery and cards.
It comes as the city prepares for an exciting programme of events in 2018 – the centenary of some women in the UK being given the right to vote.
Bristol Women's Voice, together with the University of Bristol and partners across the city, will celebrate Bristol's history as a city of change-makers and consider how it can continue to fight for equality for years to come.
Also on sale is a unique series of mugs to mark the centenary. The mugs have been designed by Femke de Jong, Malgosia Illustration (Malgosia Piatkowska) and Victoria Bell – all winners of a Bristol Women's Voice competition to seek out talented female artists whose designs summed-up the hope and passion felt for the historic anniversary.
The mugs have been made by the proudly independent Stokes Croft China in Bristol and all profits from the sale of the mugs will go straight back into enabling Bristol Women's Voice and Bristol Zero Tolerance to carry on doing the essential work they began in 2011 to make women's equality in Bristol a reality.
Vote 100
Bristol Women's Voice and Bristol City Council successfully won funding from the Government, which pledged £5 million towards a national campaign to mark the centenary.
The programme includes a lantern parade down Park Street on 6 February 2018 to mark the exact day, 100 years ago, when women over 30 who owned property were given the right to vote. The Wills Memorial Building will be illuminated in suffragette colours. At City Hall, a choir of 100 girls will sing 'The March of the Women' by Dame Ethel Smyth, who was a prominent composer and key member of the movement for Votes for Women.
The city's main International Women's Day event in 2018 will be held at City Hall with an exciting and packed programme of music, interactive theatre, hot topic debates and more.
More information on the programme of events is available on the Bristol Women's Voice website.