View all news
When Physics Girl came to Bristol...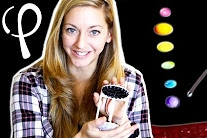 Press release issued: 22 December 2017
Following her recent visit to the University of Bristol, YouTuber, Dianna Cowern was inspired to make a video about building her own Bristol-designed DIY levitator for her hugely popular YouTube channel, Physics Girl.
Dianna, who spent the day with Asier Marzo in Bristol's Faculty of Engineering, described the 3D-printed TinyLev acoustic levitator as "the coolest thing I've ever seen!"
In the video: I built an acoustic levitator! Making liquid float on airDianna demonstrates her own acoustic levitator which she built following the instructions produced by the Bristol engineers. She uses it to levitate water, Styrofoam and even toothpaste, explaining the physics behind it to her 760k+ subscribers.
Dianna was initially sceptical when she received an email from the University of Bristol claiming to have created the blueprint for a DIY, at-home acoustic levitator.
"The technology for this has been around for decades but the genius of this little at-home project is making it available for everyone," said Dianna.
Asier, who is based in the University of Bristol's Department of Mechanical Engineering and appears in the video, explains:
"Acoustic levitation has enormous potential for applications in pharmaceuticals, biology or biomaterials. However, historically, levitators have been restricted to a small number of research labs because they needed to be custom-made, carefully tuned and required high-voltage.
"Now, as demonstrated in Physics Girl's latest video, we have developed instructions so students and physics buffs alike can build their own levitator at home or school.
"The good thing about democratising the technology is people can do with it whatever they want. Some people have had some really nice suggestions, like levitating a germinating seed or an insect egg – will it hatch when it's levitating?"
The possibilities are seemingly endless. At the time of writing, the video had already been viewed over 133,000 times, with 9,000 likes and 743 comments!
Further information
TinyLev is a 3D-printed acoustic levitator, developed by University of Bristol engineers as an easier way to suspend matter in mid-air. Using parking sensors, a motor driver, an Arduino (a single board microcontroller) and a 3D-printed part, the University of Bristol team has developed an instruction pack for those wanting to assemble their own levitator at home or school. The instructions will enable any researcher to put together a levitator and conduct experiments in acoustic levitation. This levitator is safe to use, robust against temperature or humidity changes, and can operate for extensive periods of time, enabling experiments that were not possible before. Watch the video here.
Physics Girl is a YouTube channel created by Dianna Cowern about physics, astronomy and science-related topics. The show features fun DIY demos, unusual and cutting-edge research, space, and expert interviews. The channel has in excess of 768k subscribers, making Dianna one of the most popular science-related Youtubers in the world.