View all news
Special Advisor on Industrial Strategy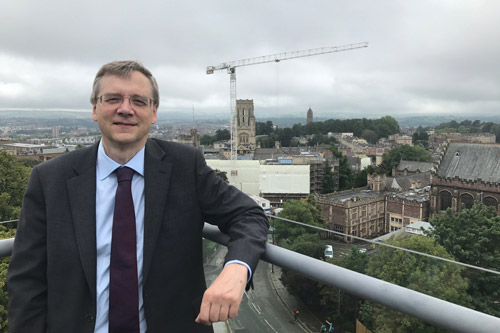 Press release issued: 24 August 2017
The University of Bristol has appointed its first Special Advisor on Industrial Strategy.
Martin Sadler OBE has a long and illustrious career at the leading edge of industrial research and development, particularly in fields related to digital and cybersecurity.
Most recently, he was Vice President of Hewlett Packard Labs in Bristol responsible for directing the company's exploratory and advanced research in security and large-scale system management.
He is an expert in issues that are of significant national concern, including the continued growth of organised cybercrime, the deeper alignment of business and IT, the rapid adoption of social networking tools and cloud-based services and the blurring boundary between personal and work life.
In his new role, Martin will advise the Vice Chancellor, senior management and leading academics on how to maximise the opportunities emerging for new collaborative research programmes and sources of funding arising from the UK Government's Industrial Strategy.
He will work to position the University with leading industry research partners and Government policy makers and funders to ensure Bristol is a leading partner in the development and delivery of research programmes originating from a variety of funding sources.
Martin will also play a key role in mobilising the potential of the new Temple Quarter Enterprise Campus in securing new collaborative research and associated funded-programmes with key industry partners.
He said: "Having spent most of my career in industrial research, I am very pleased to be helping industry and the University connect to create opportunities built on exciting, innovative research."
Professor Hugh Brady, Vice-Chancellor and President at the University of Bristol, said: "We are delighted with Martin's appointment which will build on Bristol's existing world-leading strengths in cryptography.
"This will lead to stronger links to other areas of international strength in wireless communication, software defined networks and quantum technologies, and help deliver important business opportunities within our new campus development."
In addition, Martin, who was awarded his OBE in 2013 for services to science, has represented HP and Hewlett Packard Enterprise on a number of British Government and academic bodies, and was a member of the advisory board for the Government's Foresight Cyber Trust and Crime Prevention project.
He was also a member of the board for The Institute of Information Security Professionals, served as a member of the steering committee for the Government's Cyber Security Knowledge Transfer Network and as a member of the Confederation of British Industry's Information Security working group.
Currently he is chair of the advisory boards for the EPSRC funded Quantum Communications Hub, the EPSRC/NCSC funded Research Institute in the Science of Cyber Security, and the Department for Digital, Culture, Media and Sport's group advising on how best to secure connected consumer devices.