View all news
Food for thought as festival brings research to life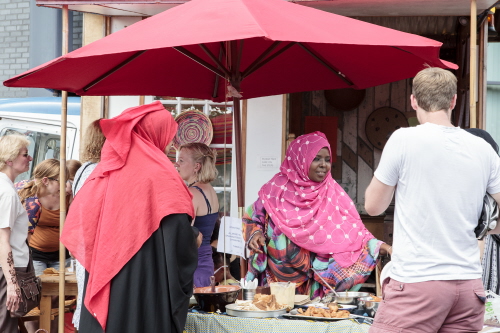 Press release issued: 31 August 2017
Members of the public are invited to experience community research first-hand at a special festival taking place on 14 September.
A variety of experiences – including theatre performances, immersive art and food – will showcase and celebrate Productive Margins, a research programme looking at how to engage with the parts of society often on the margins of decision-making and power.
The programme, a collaboration between the University of Bristol and Cardiff, has explored many of the big questions facing society today, including loneliness among older people, engagement of the Muslim community and improving access to affordable, nutritious food.
The one-day event, being held at The Station from 8am to 8pm on 14 September, will challenge visitors to think differently about how regulation can both constrain and empower communities.
Among the activities is a lunch provided by the Somali Kitchen – a community cookery group made up of women living in Easton, which formed after taking part in Productive Margins workshops and promotes fresh, nutritious and affordable food in Easton.
The group were concerned that children and young people in certain parts of the city are more exposed to unhealthy food, with subsequent health impacts. In Easton and Lawrence Hill, the two wards where project participants live, the number of fast food takeaways is 44 and 22 respectively, compared to seven in Clifton and nine in Horfield.
Also taking place at the Productive Margins Festival is 'Alonely' - a collection of diverse stories performed by members of the Southville Community Development Association, with the aim of making older people's experiences of isolation more visible.
There are also discussions about how women can make informed choices about how they use and value personal data; an insight into the 'Life Chances' project which has used fiction to explore the life chances for families in poverty; plus 'Live Model' - an immersive performance in which the participants become actors and consider how we experience regulation in the places where they live and work.
Dr Angela Piccini, one of the festival's organisers, said: "The festival is a showcase of the diverse and important research which we've carried out with the local community over the last five years.
"It's based on the understanding that people and communities excluded from participation in the regulatory regimes that impact upon their daily lives have expertise, experience and creativity that can be politically productive.
"Come along and be part of the discussion about how we can ensure communities at the margins are engaged in regulatory processes and practices."
Further information
The Productive Margins Festival is free and open to all from 8am to 8pm on Thursday 14 September. People are welcome to come along for the whole day or dip in and out of the various events, discussions and performances. Please see the full programme for further details and to register.
Productive Margins is funded by the Economic and Social Research Council (ESRC) and the Arts and Humanities Research Council (AHRC). The following community organisations have taken part: Building the Bridge (BTB), Coexist, Knowle West Media Centre (KWMC), Single Parent Action Network (SPAN), South Riverside Community Development Centre (SRCDC), Southville Community Development Association (SCDA) and 3G's Development Trust.