View all news
Plans for new city centre campus take shape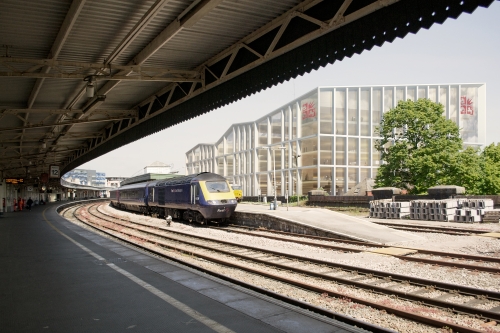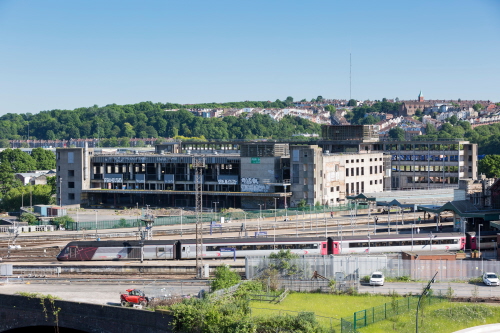 Press release issued: 30 August 2017
A second phase of consultation around the University of Bristol's plans for its new £300 million campus next to Bristol Temple Meads will be held in September.
Plans for the Temple Quarter Enterprise Campus, one of the city's most significant regeneration projects in recent history, were revealed in June.
Following on from feedback received during the initial consultation period, the University will be presenting their updated plans from 11 to 22 September prior to submitting an outline planning proposal to the council this autumn.
The public can have its say via an online survey, a public meeting and a live Q&A on Facebook, as well as visiting an exhibition of the plans.
At this stage, the outline planning application incorporates the proposed density and scale of the buildings, as well as access to the site, rather than specific details about the appearance and layout of the new campus which will be submitted at a later stage of the planning application process.
Teaching and research on the seven-acre site, which spans the derelict former Royal Mail sorting office and part of Arena Island, will focus on digital technologies, their application by citizens, organisations and industry, and the innovation they drive.
The campus will concentrate on educating postgraduate students, attracting top talent from across the UK and around the world.
The University will also expand its successful Engine Shed enterprise hub and build a new student village together with improvements to the public realm, including new cycle and pedestrian links to the surrounding area and high-quality landscaping.
Patrick Finch, Bursar and Director of Estates at the University of Bristol, said: "We had lots of useful feedback during our outline planning consultation, which we've looked at carefully and used to help shape our plans.
"Following on from the public's input, we've carried out a detailed transport assessment for the site which looks at off-site car parking, management of transport and construction impact. We've also done more work on flood risk.
"It's been encouraging to see so much engagement, which we hope will continue throughout the planning process."
Changes to the masterplan include a potential tunnel linking the site to Bristol Temple Meads in the future; scope for harbourside activities such as outdoor dining and recreational activities; more planting and landscaping next to Totterdown Basin to improve ecology and wildlife habitat; and improvements along Cattle Market Road to provide a new transport hub.
This second phase of consultation runs from 11 to 22 September. This includes:
There will be an exhibition of the University's plans at Engine Shed, next to Bristol Temple Meads train station, open 8.30am to 5.30pm, Monday to Friday.
A second exhibition will be held in Senate House, Tyndall Avenue, open 9am to 5pm, Monday to Friday.
On Tuesday 12 September, there will be a public meeting from 3pm to 7pm at Engine Shed where people are urged to drop in, hear more and ask questions.
A Facebook Live Q&A on Thursday, 21 September, at 6pm on the University of Bristol's Facebook page.
People can share their feedback at any time via emailing temple-quarter@bristol.ac.uk or calling 0117 977 2002. Updates will be given on the Temple Quarter Campus web page.
Representatives from the University will also be attending community events and creating a programme of events around the project to communicate its vision for how the campus will benefit the city.
Further information
Timeline
11 to 22 September 2017: Phase 2 of public consultation.
Autumn 2017: Outline planning proposal submitted to Bristol City Council.
October 2017 to May 2018: Bristol City Council will be preparing the site ready for building work to begin.
Autumn 2018: Public consultation on the detailed design plans for the new campus.
Spring 2019: A detailed planning application will be submitted to Bristol City Council, prior to contracting builders to start work on the site.
2021: New campus to be opened in time for the 2021/22 academic year.
About the outline planning application process
An outline planning application is being prepared by the University to establish the general principles of how the sites can be developed, the means of access and whether the overall scale and nature of the proposed development is acceptable to Bristol City Council as the Local Planning Authority.
As part of the planning process the site will also be subject to an Environment Impact Assessment (EIA). This means that the outline planning application will be supported by an Environmental Statement which will assess and quantify the environmental impacts of the development, such as visual impact, sustainability, transport, noise and lighting, heritage impact and air quality, and identify appropriate mitigation where necessary.
The outline application does not provide detailed plans and drawings of the proposed layout, design, external appearance of the proposed development or landscaping of the proposal. This more detailed information will be submitted at a later date in the form of Reserved Matters Applications and will be the subject of further public consultation.