View all news
University of Bristol set to welcome over 23,000 students to the city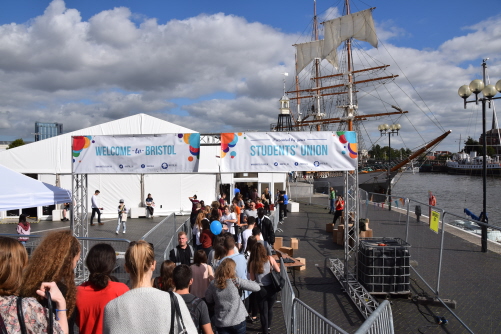 Press release issued: 16 September 2016
The University of Bristol will be welcoming over 23,000 students to the city over the next week as the new academic year begins.
Over 100 events have been organised for the 8,000 new undergraduates and postgraduates during Welcome Week [19 to 23 September], culminating in the Welcome Fair on Friday, organised by the University of Bristol Students' Union (Bristol SU) and being held on the Downs for the first time.
Over 330 sports clubs, societies and volunteering networks will help to transform the Downs into a bustling marketplace of stalls, live music, sporting displays, local businesses and University services.
The University's hot air balloon will be in action and there will even be a snowboard jump, weather permitting.
The event is designed to welcome new students to university and showcase the opportunities on offer, drawing over 10,000 students who come to find out about the clubs and societies they can join.
Jamie Cross, Union Affairs Officer at Bristol SU, said: "This is always such an exciting time for Bristol. Students come here from all over the world, and are integral to the cultural vibrancy and economy of the city.
"Students continue to make a huge contribution to the community in Bristol, raising more than £100,000 for local charities annually and contributing 100,000 hours of volunteering in the community each year.
"Many students fall in love with Bristol, and stay here beyond graduation, continuing to contribute to the city. We can't wait to have them back."
A new feature of the welcome programme this year are celebratory enrolment ceremonies being held for all new students in the Wills Memorial Building, giving students a formal welcome to the University of Bristol from senior academics and Sabbatical Officers at Bristol.
Other events organised by Bristol SU include a roller disco in the Anson Rooms, film and quiz nights, an international food festival, TedX talks and a second hand book fair.
For the full Welcome Week programme, see the Bristol SU website. Advice for new undergraduates and postgraduate students is also available.